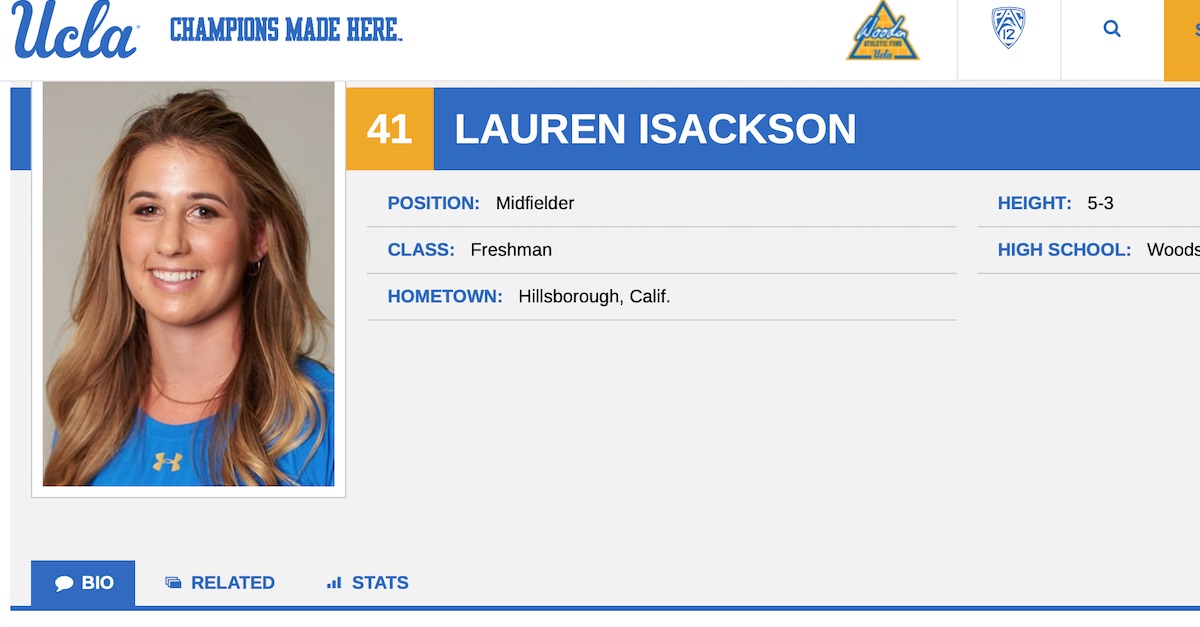 Bruce Isackson and Davina Isackson were two of 33 parents charged with conspiracy to commit mail fraud and honest services mail fraud for allegedly taking part in the "largest college admissions scam ever prosecuted by the Department of Justice."
Their daughter, now identified as Lauren Isackson, was one of the students who got into a prestigious institution even though she was not an athlete as advertised.  Despite this, the fake athletic profile that was created to get her into UCLA still exists online.
Isackson is listed as an active member on the 2017 women's soccer roster at UCLA, and even includes a bio that names her parents:
Honorable mention All-WBAL selection in 2014 … Team captain for Woodside Soccer Club from 2012-16 … Selected Team MVP in 2015.

Full name is Lauren Alyssa Isackson … Born in Hillsborough, Calif. … Parents are Bruce and Davina Isackson … Lists becoming the champion of her hoseback [sic] riding division two years in a row as her greatest athletic thrill … Psychology major.
Unlike other athlete profiles on the UCLA website, only the bio section contained information. Sections for stats and related content were completely unpopulated on the website, indicating that Isackson had never been mentioned in an article or played in a game. This would make sense because, as Law&Crime reported before, Isackson's parents Bruce and Davina Isackson have been charged for taking part in a scheme to fake such things.
In the massive complaint detailing allegations against parents participating in the college cheating and bribery scandal, Bruce was identified as the president of a real estate firm in California. He and his wife Davina allegedly paid out hundreds of thousands of dollars (including use of Facebook stock) so their daughter could falsely be portrayed as a soccer player to get her into USC. When that hit a snag — due to a "clerical error"– they apparently found a way to get her into UCLA.
Here's what allegedly happened when Lauren soccer player ruse didn't go off as planned:
On or about February 17, 2016, an assistant athletic director at USC e-mailed the women's soccer coach that  the application had been diverted to the regular admissions process due to a "clerical error."

On or about May 20, 2016, Ali Khosroshahin, the former head coach of women's soccer at USC, forwarded the falsified soccer profile, ACT score and transcripts on CW-1's behalf to Jorge Salcedo, the head coach of UCLA men's soccer. Khosroshahin wrote: "soccer player/student manager. I have attached her profile, player explanation, transcripts for both high schools and ACT scores…will make sure she has registered with the NCAA.
Please let me know if you need any additional information[.]"
The Isacksons were apparently thankful for the "rough ride" they had just experienced:
On or about June 28, 2016, the UCLA student-athlete admissions committee approved the ISACKSONS' daughter for provisional admission that fall. CW-1 notified the ISACKSONS via e-mail the following day. DAVINA ISACKSON responded, copying BRUCE ISACKSON and their daughter: "I know it has been a rough ride but I thank you from the bottom of my heart and soul for your persistence, creativity and commitment towards helping [our daughter]."
The parents allegedly explored similar arrangements for their other two children.
As was the case with many other defendants, William "Rick" Singer—the admitted mastermind of the scheme in which parents would pay bribes to college officials and SAT/ACT test takers or moderators through Singer's Key Worldwide Foundation charity—spoke with the Isacksons on the phone. The federal government recorded these calls. Many times, Singer would say the IRS was auditing his organization and that he and the parents in question needed to get their stories straight.
On one call, Bruce Isackson could be heard saying, "You know, I am so paranoid about this fucking thing you were talking about. I don't like talking about it on the phone, you know." He also said, "You know, I'm thinkin', you know, are they—I mean, I can't imagine they'd go to the trouble of tapping my phone—but would they tap someone like your phones?"
The answer to that question was yes.
[Image via UCLA screengrab]
Have a tip we should know? [email protected]