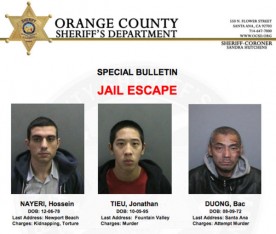 An Orange County deputy district attorney pursuing the case against one of the three fugitives on the run after a brazen escape from the Orange County Central Men's Jail in Santa Ana, CA raised some eyebrows in her response to news of the escape.
Orange County Deputy D.A. Heather Brown, the prosecutor in charge of pursuing the pending case against escapee Hossein Nayeri, described her initial reaction to hearing news of his escape as, "Oh my god, they let Hannibal Lecter out!"
She also described Nayeri as "sophisticated" and "cunning" and pointed a finger at the Orange County Sheriff's Department for what she called lax security in handling the inmate, in spite of warnings about his "incredibly violent" past.
Nayeri, thought to be the ringleader of the escape plan, was in jail awaiting trial on kidnapping and torture charges for his alleged participation the brutal attack of the owner of a marijuana dispensary in 2012.  Nayeri is accused of pistol-whipping the victim and burning him with a blow torch, then ordering an accomplice to cut the man's penis off.  They then dumped bleach all over the victim and left him for dead in the desert.
This is at least the third time Nayeri has attempted to flee prosecution.  He fled a drunk driving charge in 2005 and jumped bail after his initial arrest in his current case back in 2012, only to be arrested in Prague while en route to Iran.  He was extradited back to Orange County in 2013.
The reward for information leading to the arrest of the escapees stands at $50,000, but officials in Orange County are working to increase the reward to $200,000.  Officials will hold a press conference to update the situation at 2:00 pm PST today.
[h/t OC Register; image via Orange County Sheriff]
Have a tip we should know? [email protected]