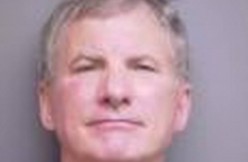 An Uber driver pulled out a gun on a passenger who needed to vomit, according to the Manatee County Sheriff's Office.
Shane Fabry just wanted a ride Friday night in Bradenton, Florida, so he found a driver through the Uber smartphone app. Cue Patrick McDonald, 67, picking up him and another passenger. But Fabry started getting nauseous during the drive. Car sick, maybe? Fine. We've all been there.
Fabry asked McDonald if they could pull over in case he puked. They stopped at the side of the road. The nausea passed, and Fabry said he was feeling better. So that's it? End of story?
Nope. McDonald reportedly told him he wasn't going to throw up in the $75,000 car. The driver allegedly stepped out and tried to take Fabry out by the arm until the passenger said he could get out by himself.
Cue them arguing outside the car. Fabry said McDonald took an "aggressive fighting stance" and then pulled out a semi-automatic handgun. (This guy really hates vomit.)
McDonald later told authorities that he pulled out the gun because he was afraid. That obviously wasn't enough of an excuse: He was arrested and faces charges for aggravated assault and battery. He is currently out from the Manatee County jail on a bond of $2,500.
Uber spokesman Bill Gibbons said the driver's account has been deactivated while the case plays out. "We stand ready to provide law enforcement with any information that would be helpful to their investigation into this matter," he said.
And Fabry? He made a Facebook post linking to a news article about the arrest:
[h/t  and McDonald mugshot via Bradenton Herald]
–
>> Follow Alberto Luperon on Twitter (@Alberto Luperon)
Have a tip we should know? [email protected]