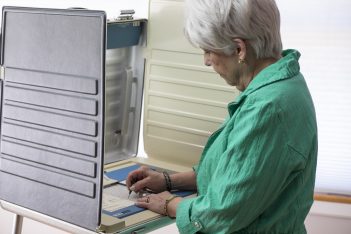 The Justice Department announced on Monday that more than 500 personnel from its Civil Rights Division will be deployed to election sites across 28 states on Election Day.
The Department of Justice has regularly deployed poll monitors to election sites since the passage of the Voting Rights of 1965.  The plan is part of a DOJ effort to ensure the federal voting rights of citizens to cast a ballot are protected on Tuesday.
"The bedrock of our democracy is the right to vote, and the Department of Justice works tirelessly to uphold that right not only on Election Day, but every day," Attorney General Loretta E. Lynch said in a statement obtained by LawNewz.com. "We enforce federal statutes related to voting through a range of activities – including filing our own litigation when the facts warrant, submitting statements of interest in private lawsuits to help explain our understanding of these laws, and providing guidance to election officials and the general public about what these laws mean and what they require."
In addition to having personnel at polling stations, the Attorney General further explained that the plan includes lawyers from the Civil Rights Division staffing phone banks on Election Day to receive complaints about possible violations of federal voting rights laws.
Attorney General Lynch said the DOJ personnel "will perform these duties impartially, with one goal in mind: to see to it that every eligible voter can participate in our elections to the full extent that federal law provides."
Additional information about the program, including a complete list of all locations that will have poll monitors, can be found on the Department of Justice website HERE.
[image via Burlingham/shutterstock ]
Have a tip we should know? [email protected]