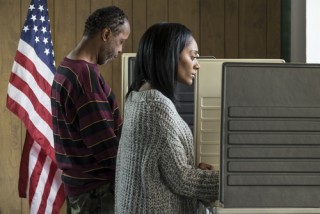 Democratic parties in four different states have filed lawsuits claiming that Donald Trump's campaign, the states' Republican parties, Trump adviser Roger Stone and his Stop the Steal exit poll initiative, claiming that they are encouraging illegal voter suppression and intimidation. They asked for the courts to issue injunctions barring the campaign, the GOP, and Stone from taking certain polling-related activities on Election Day. On Monday, a federal judge in Pennsylvania denied their motion.
Judge Paul S. Diamond of the Eastern District of Pennsylvania, wrote that if there was credible evidence that voters' rights were in jeopardy, "I would not hesitate to take immediate action." However, the judge felt that the local Democratic party provided "no evidence of any planned voter intimidation in this District."
In addition to the lack of evidence of any wrongdoing, Judge Diamond pointed out that there are already laws prohibiting the activities that the Democrats described in the motion. Therefore, the judge said, "insofar as Plaintiff asks me to enjoin conduct that is already prohibited by criminal statutes, such an injunction is impermissible."
A district court had ruled in favor of the Democrats in Ohio, granting a temporary restraining order against Trump, Stone, and the GOP, but the decision was overturned on appeal. The Ohio Democrats looked to the U.S. Supreme Court to reinstate the district court's ruling, but the high court refused.
PA Democrats Memorandum by LawNewz on Scribd
[Image via Shutterstock]
Have a tip we should know? [email protected]