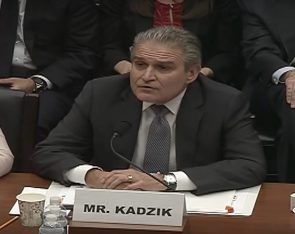 The relationship between a Justice Department official involved in the latest investigation into Hillary Clinton's private email server and Clinton campaign chairman John Podesta is causing some to raise questions about a possible conflict of interest.  Based on new emails released by Wikileaks, those concerns may be amplified.
A hacked email released on Wednesday by Wikileaks appears to show the same DOJ official gave Podesta a "heads up" about actions the Justice Department was taking in relation to the Clinton email probe back in 2015.
Peter Kadzik was appointed to serve in the Justice Department as an assistant attorney general for legislative affairs in 2014. After FBI Director James Comey announced the Bureau came across emails that may be related to the Clinton email probe, Kadzik penned a letter to lawmakers on October 31, 2016 promising the DOJ would do everything in its power to resolve the latest investigation quickly.
"We assure you that the Department will continue to work closely with the FBI and together, dedicate all necessary resource and take appropriate steps as expeditiously as possible," Kadzik wrote, in response to a letter from several Democratic lawmakers.
Kadzik's involvement in the Clinton email probe has raised some eyebrows because of his past relationship with Podesta and the Clintons.  In 1998, Kadzik represented Podesta when independent counsel Kenneth Starr was investigating wrongdoing related to the Lewinsky scandal.  Kadzik was also hired as a lobbyist Marc Rich, who was indicted for tax embezzlement and pardoned by Bill Clinton in 2001.  Several emails have also turned up in several previous Wikileaks releases that appear to show the relationship between Kadzik and Podesta remained strong, through at least late 2015.  Hacked emails show the two met for dinner on the eve of Clinton's testimony before the Benghazi Select Committee in October 2015, and Kadzik's son tried to get a job with the campaign in May 20
However, a new email released on Wednesday brought the relationship to a new level. On May 19, 2015, Kadzik sent Podesta an email from his personal gmail account with the subject line "Heads Up."
"There is a HJC oversight hearing today where the head of our Civil Division will testify. Likely to get questions on State Department emails, Kadzik wrote.  "Another filing in the FOIA case went in last night or will go in this am that indicates it will be awhile (2016) before the State Department posts the emails."
LawNewz.com also reached out to the Justice Department and we will update this piece when receive a response.
[image via screengrab]
Have a tip we should know? [email protected]