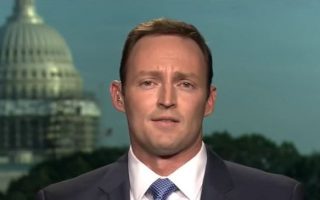 The FBI is currently investigating an allegedly illegal campaign donation scheme supporting Florida Democratic Senate candidate Patrick Murphy. The allegations stem from donations made for Murphy's 2012 campaign when he ran for the House. Murphy currently serves as a Congressman from Florida.
According to a report from The Hill, the feds are looking into a possible "straw donor" scheme that funded Murphy's Congressional bid. That's where donations made in the name of multiple people are actually funded by a single source in order to get around limits on campaign donations. The alleged benefactor is Ibrahim Al-Rashid, Murphy's high school friend who is connected to a wealthy Saudi family.
Murphy's campaign told The Hill that neither Murphy nor his campaign's staff are being investigated. Campaign spokesman Joshua Karp also acknowledged that a conservative super PAC filed a complaint with the Federal Elections Commission earlier this year based on the same allegations. "This complaint was written by a Republican super PAC willing to say anything to elect Marco Rubio." Rubio, the incumbent Senator and Murphy's opponent, decided to run for reelection after a failing to secure the GOP's nomination for President. 
The FEC complaint that Karp referred to was filed by the Senate Leadership Fund in June. It alleged that donors to Murphy's 2012 campaign were listed with false information, and that they were bankrolled by Al-Rashid. It is illegal to make a political donation in someone else's name, or to allow your name to be used for another person's donation. The complaint also says that Al-Rashid is the son of an adviser to the Saudi royal family.
"Neither Patrick nor any current or past employees have ever been contacted regarding this matter, and we are confident an examination of the facts will result in its dismissal," Karp said.
[Screengrab via MSNBC]
Have a tip we should know? [email protected]