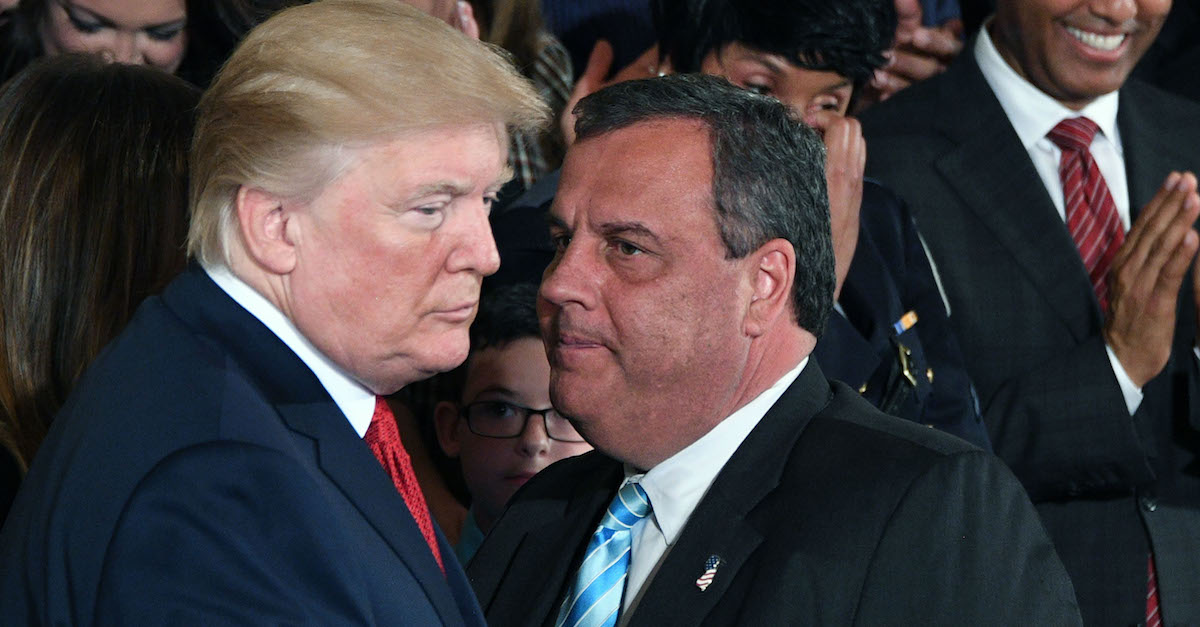 A Maylasian businessman, who is on the run across China and accused of embezzling billions, may have paid ex-New Jersey governor Chris Christie and a Trump lawyer with dirty money, the U.S. Department of Justice (DOJ) says.
The Wall Street Journal reported on Wednesday morning that Jho Low, the fugitive in question, is being investigated for laundering millions of dollars from 1Malaysia Development Berhad (1MDB), "through two associates,"  identified as Phengphian Laogumnerd and Pras Michel.
The Justice Department wants to know if the two played roles in helping Low make payments to pay his U.S. legal team. That legal team includes names like Christie, longtime Trump attorney Marc Kasowitz,and Bobby Burchfield. Burchfield has reportedly advised the Trump Organization on ethics.
There is, at this time, no evidence to suggest those who received payment were aware of the money's origin.
Christie responded through a spokesperson to say that there was "[N]o inquiry made to him by the Department of Justice with regard to any other investigation regarding funding or otherwise."
Kasowitz's firm confirmed that it is representing Low in the DOJ investigation, adding that they were paid as they always are when clients are not pro-bono.
"[A]s with all of our non-pro-bono clients, we are paid for the legal services we provide," they said.
Burchfield said "appropriate due diligence" was done on the money and that neither he nor his firm has had contact with the government.
Remarkably, former Republican National Committee finance chairman Elliot Broidy's name popped up again here.
The aforementioned Pras Michael secured Broidy's consulting services. Broidy confirmed this, saying he and his wife "provide[d] strategic advice as part of a broader team to Mr. Low."
According to WSJ, DOJ is investigating whether Broidy "attempted to sell his influence in the Trump administration to Mr. Low."
Broidy responded through a lawyer denying that he had "ever" done such a thing, in this case or otherwise.
Lawyers for Michel and Laogumnerd both denied wrongdoing.
[Image via Jim Watson/AFP/Getty Images]
Have a tip we should know? [email protected]