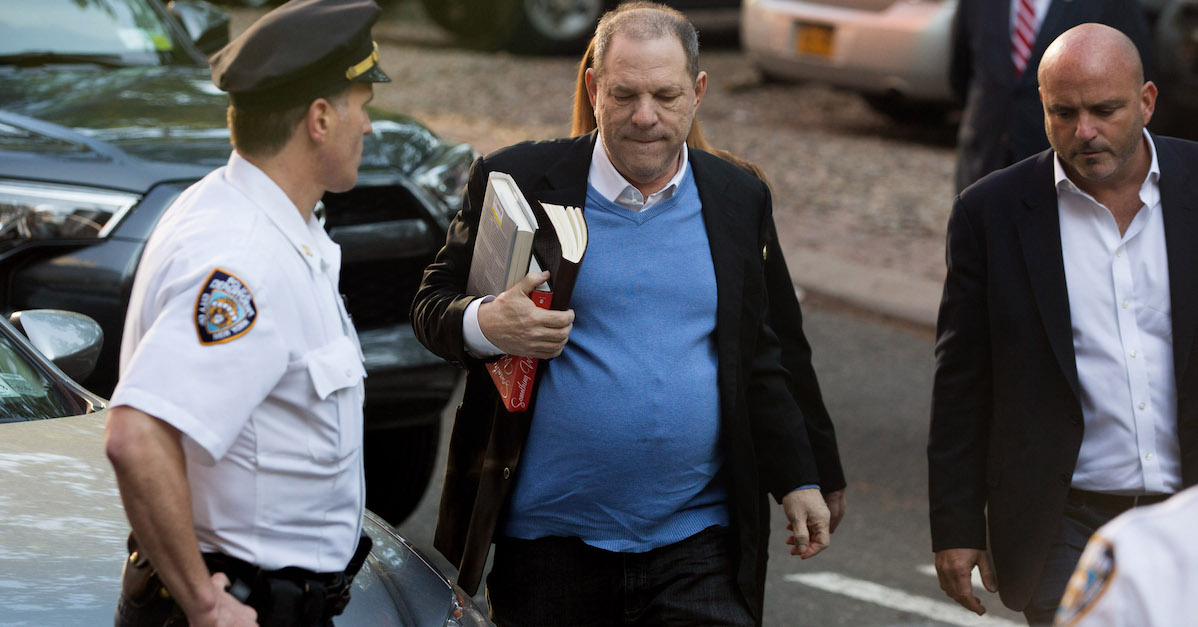 New York Governor Andrew Cuomo has ordered the New York Attorney General's Office to suspend its investigation into allegations that Manhattan District Attorney Cyrus Vance improperly handled 2015 sexual assault claims against now-disgraced Hollywood mogul Harvey Weinstein.
Initially believed to be a temporary halt, Buzzfeed News has obtained a letter sent by Cuomo's office to the Empire State's Attorney General Barbara Underwood which suggests the suspension might carry on indefinitely.
The letter was sent in June. This Cuomo directive apparently calls for a six-month pause in the Vance investigation so that Vance's concurrent and ongoing criminal prosecution of 2017 sexual assault claims against Weinstein can move forward without interference.
Recall: in late 2017, at the height of the nascent #MeToo movement, Vance was heavily criticized by sexual assault victims and advocates for failing to prosecute Weinstein over the 2015 allegations. On top of the initial failure to prosecute, many observers suggested untoward or corrupt behavior was to blame for how Manhattan's long-serving district attorney handled the issue.
As Law&Crime reported at the time:
Manhattan's District Attorney Cyrus Vance famously declined to prosecute Weinstein after the [2015 Ambra Battilana Gutierrez] allegations–and just so happened to have received a hefty campaign contribution from longtime Weinstein stalwart David Boies at around the same time. Many believe there was no lack of evidence with which to prosecute Weinstein in the Gutierrez case. In fact, there was a tape recording of Weinstein basically admitting to touching the young woman inappropriately. To date, Vance has received $55,000 from Boies.
The suspension was first learned of after Marissa Hoechstetter, a sexual assault victim interviewed by the attorney general as part of their expansive probe into Vance, began speaking with officials from both the governor's and attorney general's office. Those officials reportedly told Hoechstetter that the attorney general's investigation into Vance had been put on hiatus.
According to comments from Amy Spitalnick, a spokesperson with the attorney general's office:
Upon receiving a referral from the Governor, this spring the Attorney General's Office commenced an inquiry into the handling of recent sexual assault investigations conducted by the Manhattan DA and the NYPD's Special Victims Unit. This summer, pursuant to the Governor's office, we temporarily suspended our inquiry to avoid any interference with the District Attorney's ongoing prosecution of Harvey Weinstein. We remain committed to conducting a comprehensive, fair, and independent review.
Governor Cuomo's office also confirmed the suspension in a statement.
"As we said when the Governor directed the Attorney General to investigate the Manhattan DA's Office, it should not interfere with the DA's ongoing criminal case," Press Secretary Dani Lever said. "Given the recent indictment and prosecution of Harvey Weinstein by the District Attorney, the Attorney General's investigation has been postponed for six months."
The suspension was confirmed just one day before Cuomo is slated for his sole debate with Democratic primary challenger Cynthia Nixon. Cuomo's rival is heavily expected to raise the issue during their Wednesday night debate–particularly because Cuomo's office never publicly announced the suspension.
[image via Kevin Hagen/Getty Images]
Follow Colin Kalmbacher on Twitter: @colinkalmbacher
Have a tip we should know? [email protected]