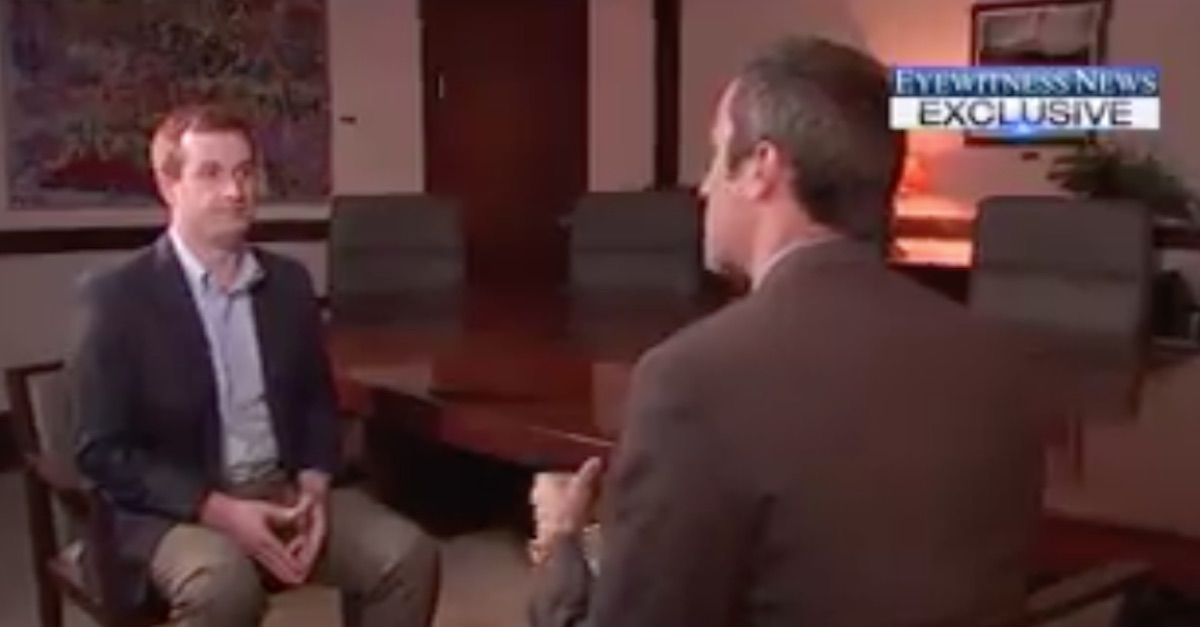 The Democratic Party has filed a formal request for a new election in North Carolina's Ninth Congressional District over widespread allegations of ballot fraud engineered by GOP campaign operatives during the 2018 primary and general elections.
As Law&Crime previously reported, Republican Mark Harris bested Democrat Dan McCready by 905 votes, according to unofficial tallies. Since election night, however, elections experts have alleged the GOP's victory was tainted by fraudulent harvesting and/or destruction of Democratic Party absentee ballots.
As evidence mounted against Harris operative McCrae Dowless and his employees, county canvassing boards called their results into question and the North Carolina State Board of Elections (NCSBE) subsequently declined to validate the apparent Republican win.
In a 33-page brief submitted to the NCSBE, attorneys for McCready not only allege that Harris' campaign benefited from the ballot harvesting and/or destruction scheme, but that said scheme was likely part-and-parcel of the GOP's path to victory in the Tarheel State.
The filing begins [italics in original]:
During the 2018 election cycle, Mark E. Harris personally sought the services of Leslie McCrae Dowless, Jr. because of Dowless' proven history of generating a strikingly high, and downright suspicious, share of absentee-by-mail votes for his clients. In the 2018 race to represent North Carolina's Ninth Congressional District, evidence indicates that Dowless and his affiliates caused Harris's equally unusual ABM success by conducting a large scale, organized ballot tampering enterprise for Harris's benefit.
The filing documents a previous absentee ballot effort by Harris for Todd Johnson–an opponent of Harris' in the 2016 Republican primary for the Ninth District.
"Most shockingly, and in a disturbing harbinger of Dowless's 2018 scheme, Johnson received 98% of all [absentee ballot] votes, as compared with a single [absentee ballot] vote for [another candidate] and four for Harris," the filing notes. "That is not a typo."
The filing goes on to document Harris' reaction to his thorough absentee ballot loss in the 2016 contest [again italics in original]:
Harris admits he personally sought Dowless's services and decided to hire him, because of the "unusual" Bladen County [absentee ballot] vote totals in the 2016 Republican Primary. Harris explained that Johnson defeated him"significantly in [Bladen] County, and with absentee ballots. And I remember looking at that, and going 'Wow, that's, that's unusual.'
The Democratic filing also suggests that Harris had intimate knowledge of how Dowless' allegedly unlawful operation was conducted.
"Harris met with Dowless when preparing to run in 2018, at which time Dowless explained his 'absentee ballot and Get Out the Vote program,' which Harris admits "was the same thing I assumed [Dowless] had done to have the success that he had in the past,'" the filing notes. "And Harris admits he personally communicated with Dowless 'frequently' during the campaign."
Ultimately, Dowless was paid some $500,000 by the Harris campaign for his absentee ballot expertise.
The filing details the alleged extent of Dowless' illegality [italics in original]:
Dowless's large-scale enterprise involved at least three different tactics: (1) unlawfully harvesting and tampering with [absentee] ballots to increase Harris' vote totals; (2) discarding [absentee] ballots likely to have been cast for McCready; and (3) colluding with local election officials in order to further benefit Harris's election bid and avoid detection. [One report states that] Harris's "mail-in absentee support [in Bladen County] was more extreme than the mail-in absentee support for any other comparable Congressional candidate" in any general election since 2012 in both North Carolina and three comparable states.
How could Dowless engineer such an unprecedented level of support for Harris via absentee ballot?
"In the 2018 General Election, at least fifteen individuals are associated with Dowless's enterprise, whose names appear as witnesses on hundreds of [absentee] ballot envelopes as well as documents associated with hundreds of [absentee ballot] requests," the lawsuit explains.
"Multiple affiants and other witnesses report that Dowless and his associates harvested or attempted to harvest [absentee] ballots, including unsealed and/or unvoted ballots," the lawsuit continues. "In some cases, ballots that had been collected unsealed and unvoted were returned to the county board bearing witness signatures and were accepted and counted. Relatedly, Dowless's associates completed [absentee] witness affidavits outside the presence of voters."
The filing mostly relies on the legal argument that the election was generally tainted by dirty tricks–shying away from a data-based claim that the allegedly harvested and/or destroyed ballots were definitely the reason McCready lost to Harris on election night.
But, in stark contrast to multiple GOP statements about the situation, the filing does note that the total number of ballots touched by Dowless and his employees–over 2,500–was far in excess of the Harris campaign's election night margin of victory.
"While only Dowless may ever know the breadth of his scheme, the evidence is conclusive: Dowless's operation tainted a far greater number of ballots than the apparent margin in the CD-9 race, and he was aided and abetted by elections officials along the way," the filing asserts.
Again the lawsuit:
Though the full scope of fraudulent activity may never be known, the record makes clear that the results of the entire election are tainted, and its fairness is in doubt. Moreover, the Harris Campaign should have known it was benefiting from fraud, and there is strong evidence that they did know and that local election officials aided the scheme. Therefore, the State Board of Elections should exercise its clear authority to order a new election.
Attorneys for Harris, meanwhile, have argued that the alleged ballot tampering hasn't been proven to have substantially impacted the race and are asking the NCSBE to certify their client the winner.
[Image via WSOC screengrab]
Have a tip we should know? [email protected]