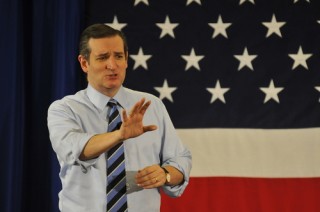 George Soros, a Democratic billionaire and prominent backer of former Secretary of State Hillary Clinton is now the subject of $500,000 worth of negative advertising that aligns him with Ohio Governor John Kasich. So, who is behind the ad? None other than Trusted Leadership, a super PAC backing Texas Senator Ted Cruz.
The ad running in Wisconsin, the winner-take-all next state in the Republican primary, links Kasich to Soros, who has given tens of millions of dollars to liberal causes. As one might imagine, a Kasich-Soros connection would be fodder for conservative commentators and would help advance the narrative that Kasich isn't a true conservative and is, in fact, more of a moderate.
"Hundreds of thousands of dollars from George Soros," the ad reads. The ad's narrator says: "Millionaires working side by side with George Soros are bankrolling [Kasich's] super PAC."
There's just one problem. The ad is a bit misleading. While there is a sliver of truth to the ad, Soros himself has not contributed to Kasich, any Republican candidates or any conservative super PACs for that matter.
The connection between Kasich and Soros derives from two employees of Soros Fund Management (SFM), an investment management firm founded by Soros, who have given to the pro-Kasich super PAC New Day for America. Scott Bessent, who was chief investment officer at SFM, contributed $100,000 on two different occasions and Stanley Druckenmiller, a former SFM investment manager, gave $150,000 to the PAC on three different occasions.
The confusion likely derived from campaign finance watchdog Center for Responsive Politics, which lists SFM as a prominent supporter of New Day for America. A spokesmen for Soros, New Day for America and Kasich have all said that Soros is not connected to to the funds.
Michael Vachon, a spokesman for Soros, said the billionaire has no connection to the political contributions of his employees. Matt David, a senior strategist for New Day for America, also commented on the pro-Cruz super PAC ad calling it "absurd."
Rob Nichols, a spokesman for the Kasich campaign didn't mince words in a comment to TheBlaze, saying, "[s]how me where George Soros contributed to Governor Kasich's election, not an associate, not an employee. The only money I've seen from Soros is $160 million to Donald Trump." However, Nichols doesn't quite have his facts straight either. What Nichols seems to infer about a campaign contribution to Trump was in fact a 2004 loan from Soros to Donald Trump to build Trump Tower Chicago for $160 million — a business transaction, not a campaign contribution.
The attack ad is surprising to begin with since Kasich is in a distant third place and is mathematically precluded from reaching the Republican delegate threshold of 1,237. His best bet is a brokered convention. It's unclear why a pro-Cruz super PAC would focus on Kasich, who only has one state under his belt, for this very reason.
So, what's next? Will Kasich jump into the litigation game that has been monopolized by Trump and Cruz? It's almost certain that there would be a few tweets with some combination of "loser," "low-energy," and "sad!" if Trump was the target.
The ad, which hit the Wisconsin airwaves on Tuesday, is scheduled to run through election day next week.
[h/t SeattleTimes]
Have a tip we should know? [email protected]