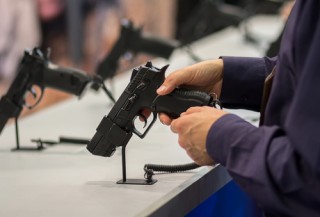 An Ohio gun shop owner has many singing his praises after law enforcement and local citizens believe his gut instincts may have stopped a potential mass shooting. Yes, it's speculation, but after you hear the circumstantial evidence you too may be convinced that John Downs saved some lives.
James Howard, who has a history of mental illness, arrived at Downs' store looking to purchase a gun. The 25-year-old, who withdrew from classes at Ohio University last week, allegedly assaulted an assistant hockey coach before arriving at the gun shop. After Howard cleared background checks something just didn't seem right to Downs — a feeling. "Just the look in his eye…there was something about him. I don't know. You really can't explain it. He was going to do something. He was going to do something," Downs told CBS News. And so the shop owner turned Howard away and refused to sell him a gun.
Howard returned to Downs' shop the same day, after being refused. Downs locked down the store and had a customer call 911. Soon after, the police located Howard's car at a Walmart with a gun in its backseat. Howard was reportedly in the store, in the process of purchasing almost 50 rounds of 20-gauge shot gun shell ammunition.
Lanny North, the Hocking County Sheriff, said that he believe Downs' gut instinct to Howard may have saved lives. "We don't know what he may have prevented," North told CBS News.
Howard is being held on $125,000 bond for the possession of a firearm while allegedly being drug dependent, or in danger of becoming so. The former college student is also being held for making false statements on his background check form while purchasing a firearm.
[h/t MSN]
Have a tip we should know? [email protected]