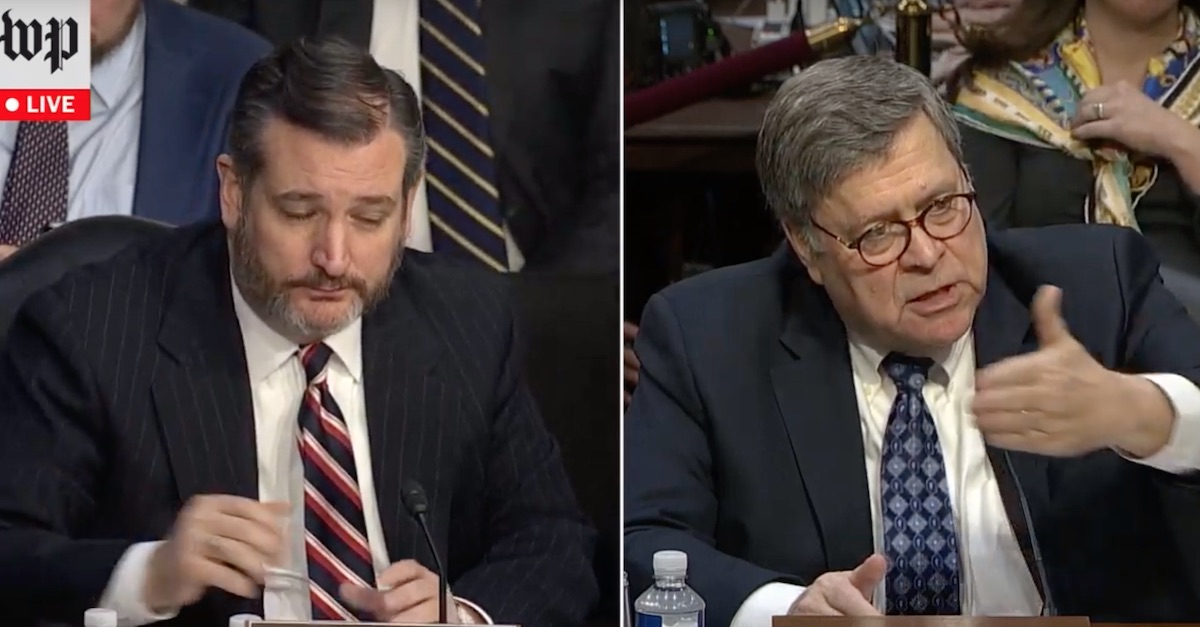 U.S. Attorney General nominee William Barr's confirmation hearing has mostly gone as expected, but here and there, little exchanges have grabbed attention. One such exchange came when Barr was asked about the subject of recusal in the context of Special Counsel Robert Mueller's Russia investigation.
As recent history shows, former AG Jeff Sessions recused himself from the Russia investigation and offered a justification for it. Sessions recused himself by citing Title 28, Chapter I, Section 45.2 of the Code of Federal Regulation (CFR) — "Disqualification arising from personal or political relationship." Sessions stated that he had to recuse himself from the heading up the Russia probe because he served as a campaign advisor for the Trump campaign.
Both Barr and current acting AG Matthew Whitaker have brought a history of comments about the Mueller probe to the table, but neither of them appear to have met the major criteria requiring recusal. In Whitaker's case, there was much ado about his declining to recuse himself, despite an ethics official consulted on the situation determining that recusal was a "close call." That official also said that if Whitaker did seek a formal recommendation, they would have recommended that he should recuse himself from the Mueller probe out of an "abundance of caution" given the "appearance" of a conflict of interest.
Leahy asks if William Barr will seek and follow the advice of DOJ ethics officials on whether he must recuse himself from the Mueller investigation.

Barr says that he will seek out their advice "but under the regulations, I make the decision."

— Kyle Griffin (@kylegriffin1) January 15, 2019
Barr was asked today about recusal — specifically whether he will seek and follow DOJ ethic officials' advice on the matter. Here's what Barr said:
I will seek the advice [of ethics officials], but under the regulations, I make the decision as head of the agency as to my own recusal. At the end of the day, I would make a decision in good faith based on the laws and the facts that are evident at that time.
This resulted in a swift response on Twitter.
Why won't Barr commit to follow the advice of ethics officials, as Jeff Sessions and Eric Holder committed to do? https://t.co/ogzn3q94g9

— Renato Mariotti (@renato_mariotti) January 15, 2019
Barr's commitment to seek but not necessarily follow the advice of ethics officials is the Whitaker standard and falls short of what Holder, Sessions, Rosenstein, and Yates all committed to – to follow that advice. It's obviously deliberate that he's breaking precedent.

— Matthew Miller (@matthewamiller) January 15, 2019
Attorney Walter Shaub, the former director of the United States Office of Government Ethics, took the criticism a step further. He said Barr was "wrong" to say that he "could ignore ethics officials."
Shaub cited 5 CFR 2635.502(c).
That says that "the agency designee may make this determination on his own initiative or when requested by the employee's supervisor or any other person responsible for the employee's assignment."
What happens? "If the agency designee determines that the employee's impartiality is likely to be questioned, he shall then determine, in accordance with paragraph (d) of this section, whether the employee should be authorized to participate in the matter. Where the agency designee determines that the employee's participation should not be authorized, the employee will be disqualified from participation in the matter."
(For lawyers out there, I note that a literal reading of the language of 2635.502(c) might suggest it applies only when a person with whom he has a "covered relationship" is a party, but OGE has interpreted that paragraph to apply to the catchall provision at 2635.502(a)(2).) /2

— Walter Shaub (@waltshaub) January 15, 2019
We've seen 2635.502 pop up before. Previously, the non-profit government ethics watchdog Citizens for Responsibility and Ethics in Washington (CREW) argued that Matthew Whitaker violated the Standards of Conduct by not recusing himself despite being advised to do so due to "appearance of a conflict."
"Making this independent determination triggered a mandatory requirement that Acting Attorney General Whitaker recuse from the investigation. By refusing to do so, Acting Attorney General Whitaker violated the Standards of Conduct," CREW argued, citing Section 2635.502.
As is the case with Barr, either the employee or an agency official can determine that recusal is required, despite Barr's suggestion that he would make his own determination.
"The regulation provides that either the employee or the designated agency ethics official acting on his own initiative may determine there is an appearance of loss of impartiality requiring recusal. Once an agency ethics official makes that determination, the employee must recuse and cannot simply override them based on his own evaluation," CREW continued. "Assistant Attorney General Boyd asserts in his letter that 'the ethics rules do not require a formal recommendation from the ethics officials,' but admits the agency ethics officials 'concluded' that 'if a recommendation were sought, they would advise that the Acting Attorney General should recuse.'"
[Image via Washington Post/YouTube screengrab]
Have a tip we should know? [email protected]