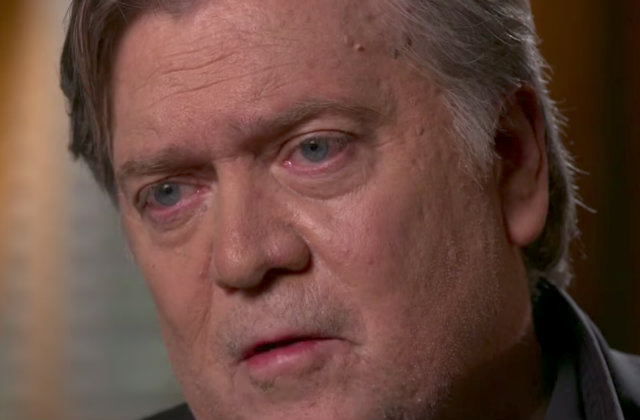 Steve Bannon believes President Donald Trump will ultimately be brought down by charges related to money laundering.
According to Michael Wolff's forthcoming book Fire and Fury: Inside the Trump White House, previewed in the Guardian today, the former White House Chief Strategist and Breitbart impresario is none too optimistic about where the investigation by special counsel Robert Mueller will ultimately lead.
According to one of the multiple excerpts from the book, Bannon claims:
You realize where this is going. This is all about money laundering. Mueller chose [Andrew] Weissmann first and he is a money-laundering guy. Their path to fucking Trump goes right through Paul Manafort, Don Jr. and Jared Kushner…It's as plain as a hair on your face.
Bannon also referenced the recent subpoenaing of Jared Kushner's financial records from Deutsche Bank. The New York Times reported last month that federal prosecutors in Brooklyn went after those records for unknown reasons–but that their subpoena didn't appear to have anything to do with Mueller's investigation. Bannon shot down that theory. He said:
It goes through Deutsche Bank and all the Kushner shit. The Kushner shit is greasy. They're going to go right through that. They're going to roll those two guys up and say play me or trade me.
Some caution should be exercised here, however, as the book also notes a bout of long-running rancor between Bannon and Javanka–a portmanteau referring to Jared Kushner and Ivanka Trump, both of whom are Jewish. It should be noted that Bannon has been dogged by accusations of anti-Semitism for some time. And, according to former secretary of state and alleged war criminal Henry Kissinger, who is also quoted in the book, "It is a war between the Jews and the non-Jews."
Bannon was also scornful of the president's sometimes-trusted son, Donald Trump Jr. While still focusing on the money laundering aspect of the Mueller investigation, Bannon predicted, "They're going to crack Don Junior like an egg on national TV."
And, as far as how the White House has treated the Mueller investigation so far, Bannon added, "They're sitting on a beach trying to stop a Category Five."
[image via screengrab/CBSN]
Follow Colin Kalmbacher on Twitter: @colinkalmbacher
Have a tip we should know? [email protected]