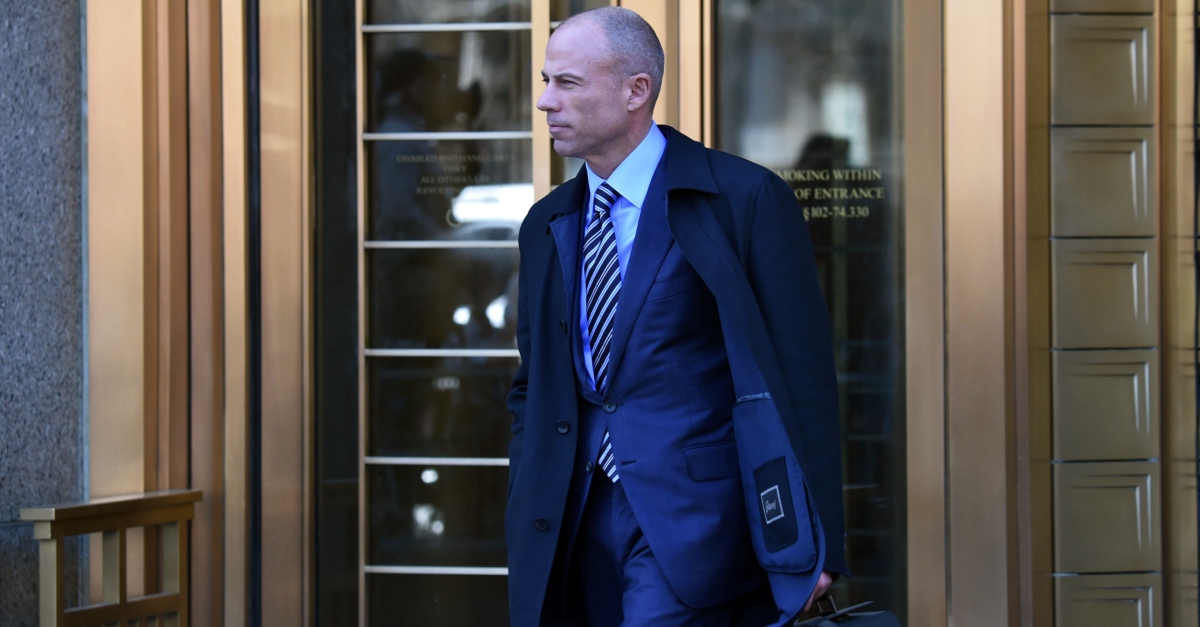 Stormy Daniels' attorney Michael Avenatti filed a civil rights complaint on Monday in the U.S. District Court for the Southern District of Ohio against Columbus Police Vice Unit detectives who arrested Daniels at the "Sirens" strip club in July.
Avenatti would say in a statement that the conduct of these officers was "outrageous." He called them "rogue officers, who abused their power and the badge to further a political vendetta against Stormy." Daniels was arrested under a rarely-enforced state law that prohibits employees of strip clubs who dance nude or semi-nude from touching patrons. Police eventually admitted that Daniels should not have been arrested. Prosecutors dropped the case because Daniels was not an employee of the club, only a guest performer, so the statute did not apply to her. Cops said that they would investigate the motives of the arresting officers.
Avenatti said that this is something that happens in Russia, not America.
"Each and every individual who had a hand in this bogus arrest, no matter their position power, will be held accountable," Avenatti promised.
In the complaint, Avenatti identified officers as "avowed supporters of President Trump" and "registered Republicans."
Defendant officers belonged to a group of officers from the Vice Unit who were avowed supporters of President Trump. To wit: Defendant [Shana] Keckley is registered as a Republican in the Ohio voter rolls; Defendant [Mary] Praither is also registered as a Republican in the Ohio voter rolls; Defendant [Steven] Rosser is a known Republican supporter of President Trump.
Avenatti went on to describe the contents of a Facebook profile that he said belonged to Rosser:
Before July 11, 2018, Defendant Rosser maintained a Facebook profile under the alias of "Stevo Shaboykins." Defendant Rosser regularly posted supporting images for President Trump on the Stevo Shaboykins Facebook page. One image was labeled "Cops for Trump Pence Make America Great Again," and included the text: "Keep your Elephant Keep your Donkey We Have a Lion (Trump)," and "So Trump is mentally ill…he built a multi-billion dollar empire that spread across the world, was able to beat 17 of the best and brightest Republican candidates, turns around to beat the 'most qualified woman of our time' for the presidency, then in his first year in office causes the stock market to climb to heights never seen before in history, lowered unemployment, almost wiped out ISIS, restoring law and order, all while working with a hostile Congress and the media attacking him 24/7? Perhaps we need more mentally ill people."
Avenatti alleges that Daniels' 4th and 14th Amendment rights were violated, and maintains that she is entitled to $1,000,000 in compensatory damages and more than $1,000,000 in punitive damages, plus costs and attorneys fees.
You may recall that shortly after Daniels' arrest, local reports and Daniels herself questioned the motivation behind it.
Daniels joined The View in September to discuss her arrest. Daniels said she was aware of strip club laws across America and that she has danced in the state of Ohio at least a dozen times. She claimed that the officers who arrested her were undercover and initiated contact during her performance. In particular, she said they "asked for a motorboat."
"I got in trouble because there were undercover officers sitting at the stage. They put dollars in their mouth and asked for a motor boat, and I did that," she said.
"I know several other girls that have gotten in trouble for a misdemeanor violation. The cops write you a ticket on the spot, done, no big deal. [They don't] get arrested, hauled in and mugshot and strip searched, and all the things that happened to me," Daniels continued.
Daniels said she believes that what happened was "entrapment" because "they asked me to do it."
"The police officers actually did not arrest me immediately. They stood in line, paid for autographs and photos with me," she continued. "[T]hen they came to my tour bus and arrested me."
As Law&Crime previously reported, a whistleblower forwarded emails to local newspaper The Fayette Advocate later in July to say Vice Detective Shana Keckley and "her fellow officers were there because of Stormy and only because of Stormy."
"The emails definitely show that the police lied about it being a prostitution and human trafficking mission," that person said.
Polcie chief Kim Jacobs said that the motivations behind the arrest were questionable.
"While the presence of Vice officers at this establishment is reasonable, the motivations behind the officers' actions will be reviewed internally," Jacobs said at the time.
[Image via Hector Retamal/AFP and Getty Images]
Have a tip we should know? [email protected]