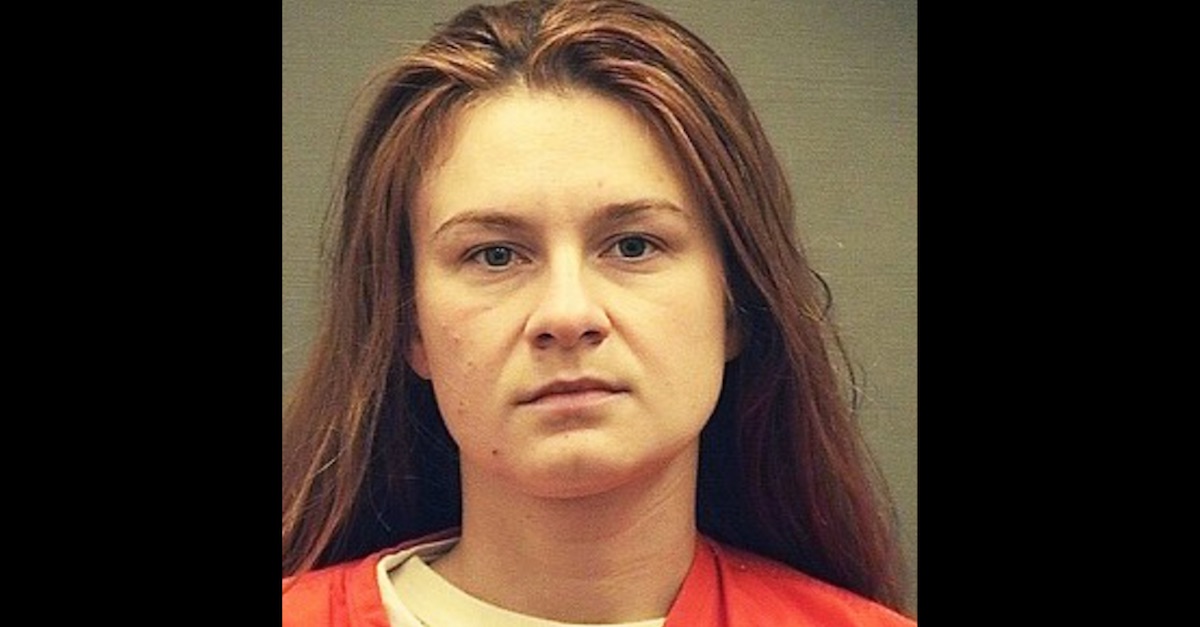 Alleged Russian spy Mariia Butina (aka Maria Butina) has been incarcerated since she was arrested on July 15, and lately has been residing in administrative segregated housing as a security measure. Despite being in solitary confinement supposedly for her own good, Butina seems to be going stir-crazy, and filed a motion on Tuesday to be placed in the general population of the detention center in Alexandria, Virginia.
Butina's motion states that life in solitary "is marked by deprivation," saying that her cell is a parking space-sized steel door cage. She is "deprived of any meaningful human contact or sensory stimulation for 22 hours a day, every day, with no release date in sight."
Butina is accused of acting as an unregistered Russian agent, working to influence U.S. politics by making connections with American officials and trying to affect policy.
Her motion states that she had been in solitary for 67 straight days before being placed in gen-pop after multiple requests by her lawyers, but she was put back into solitary on November 21. According to the motion, this came after corrections staff said Butina had put another inmate in touch with her lawyers, "but staff did not find a disciplinary violation—major or minor." Personnel later said she was moved "for her safety," but Butina's lawyers claim this was "a ruse to shield review of arbitrary conduct."
Butina's attorneys say they reached out to authorities for information, but have yet to get any explanation for why she was placed back in solitary. They claim that being there is "starting to have a profound psychological impact" on her.
In a statement to Law&Crime, the U.S. Marshals Service said:
The U.S. Marshals Service is responsible for the safe, secure and humane care of approximately 50,000 federal prisoners daily. We are aware of the federal court filing by Maria Butina's attorney, which addresses her alleged treatment at the Alexandria Detention Center, one of the facilities in which we house prisoners. We cannot comment further as the matter is in litigation. In addition, as a matter of policy, we do not disclose information related to individual prisoners; protection of their privacy, safety and security remains a priority during confinement
Note: This article has been updated with the USMS' statement.
[Image via Alexandria Detention Center]
Have a tip we should know? [email protected]