A D.C. police lieutenant gave Proud Boys leader Enrique Tarrio — now convicted of seditious conspiracy for his role in the attack on the U.S. Capitol — a heads up about his impending arrest for torching a church's Black Lives Matter sign, prosecutors said on Friday.
Metropolitan Police Department lieutenant Shane Lamond, a 47-year-old from Stafford, Va., supervised the Intelligence Branch of the Homeland Security Bureau. Now, he's been arrested on a four-count indictment accusing him of obstructing justice and three counts of lying about it to authorities.
Before his prosecution in connection with the Jan. 6th attack, Tarrio landed into legal hot water for burning a Black Lives Matter (BLM) sign that was hanging from an historic church on Dec. 12, 2020. He later received a five-month sentence for those acts and for illegally bringing two high-capacity firearm magazines within city limits.
As that earlier investigation unfolded, prosecutors say, Lamond gave Tarrio inside information about what police were hearing on Dec. 18.
"Hey brother, did you call in an anonymous tip to MPD claiming responsibility for the banner burning?" Lamond allegedly asked him.
"I did more than that," Tarrio is quoted replying. "It's on my social media."
Tarrio continued to chest-thump about his responsibility for torching the banner at Asbury United Methodist, an historic Black church.
On Dec. 22, Tarrio remained unrepentant after sharing a graphic mocking the possibility of an FBI investigation into his act as a hate crime.
"I'LL F****** DO IT AGAIN," Tarrio posted, with the profanity uncensored in original.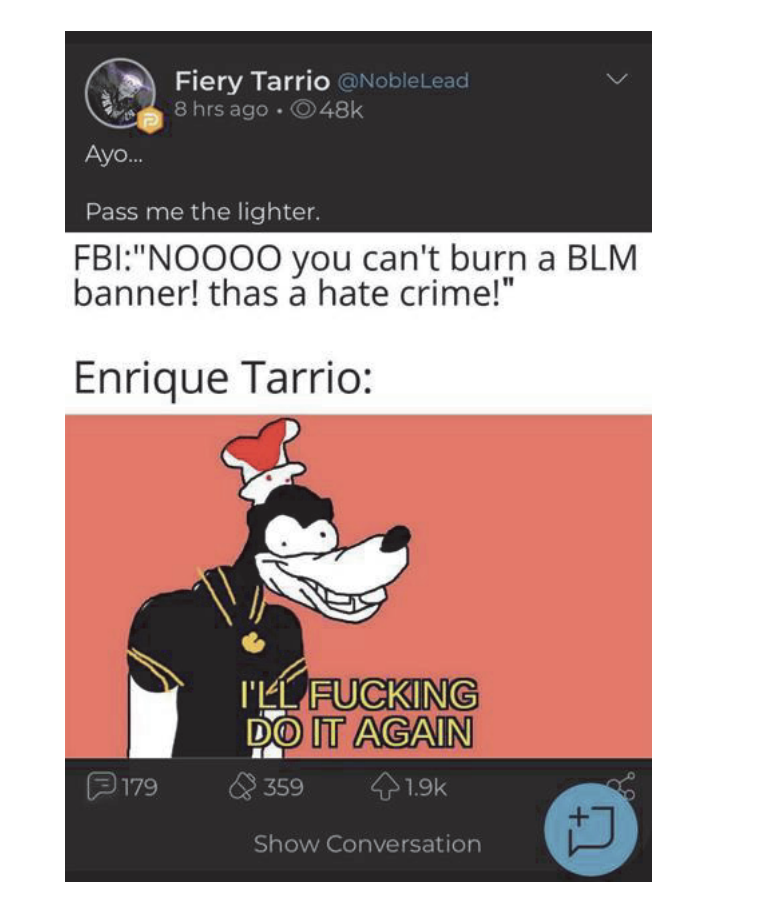 Authorities say the two communicated via Telegram, using the highest level of encryption available to them.
"I gotcha," Lamond continued, according to the indictment. "Someone called in an anonymous tip saying that you claimed responsibility for it."
That Christmas, Lamond allegedly gifted Tarrio with another "heads up," informing him that the Criminal Investigative Division had the lieutenant identify Tarrio from a photograph he posted on social media kneeling down next to the BLM banner.
"So they may be submitting an arrest warrant to US Attorney's Office," Lamond wrote, according to the indictment.
At Tarrio's seditious conspiracy trial, jurors learned about messages Proud Boys leaders and members exchanged through an encrypted chat group titled "Ministry of Self Defense." Prosecutors say that Tarrio boasted in his channel about his "contact" within Washington, D.C., who allegedly informed him that, as of Dec. 30, 2020, the "DA hasn't signed it yet."
Later that day, Tarrio allegedly wrote that he learned that any charges related to the banner wouldn't be serious.
"It just the misdemeanor," Tarrio allegedly wrote. "Not hate crime."
Lamond later informed Tarrio that the charge of possessing high-capacity magazines was a felony, according to the indictment.
"So gay," Tarrio responded.
On Jan. 4, 2021, Tarrio learned about his impending arrest from Lamond then told an unidentified person: "Warrant was just signed," before that information had become public, prosecutors say.
Though Tarrio himself had a stay-away order keeping him from Washington on Jan. 6th, prosecutors argued — and a jury found — that he hatched a conspiracy to violently overthrow the U.S. government or prevent the execution of its laws. More than a year would pass before Tarrio would be charged in this effort.
In the days after the attack, prosecutors say, Tarrio and Lamond communicated about the burgeoning investigation.
"I think I could have stopped this whole thing," Tarrio mused to Lamond on Jan. 7, 2021.
The next day, Tarrio appeared optimistic about Proud Boys escaping prosecution.
"Looks like the feds are locking people up for rioting at the Capitol," Lamond wrote on Jan. 8. "I hope none of your guys were among them."
"So far from what I'm seeing and hearing we're good," Tarrio replied.
Some six months after the Jan. 6th attack, Lamond would begin to feel the heat of his association with Tarrio, and he allegedly lied to authorities to distance himself from the Proud Boys leader on June 2, 2021.
Asked whether it was common for Tarrio to "fish" for information, Lamond responded: "No, not really," according to the indictment.
"He never really asked me questions about, like, you know, what we were doing or anything," Lamond allegedly told authorities. "It was more, you know, one-sided with just him telling me, you know, what their plans were."
If convicted of all charges, Lamond faces a maximum of 45 years in prison.
Read the indictment here.
Have a tip we should know? [email protected]
Adam Klasfeld - Managing Editor