Years after a plastic surgeon was charged with involuntary manslaughter in the death of a 36-year-old mom of two, California authorities have charged the doctor with second-degree murder.
Megan Espinoza's heart stopped at Divino Plastic Surgery, the Bonita-based practice of Dr. Carlos Orlando Chacon, six days before Christmas in 2018. According to the San Diego County District Attorney's Office, extensive investigation of the facts behind Chacon's alleged inaction supported the murder charge.
The probable cause warrant from April 6 alleges that Espinoza went into cardiac arrest mid-surgery, at around 2:20 p.m. on Dec. 19, 2018. According to the warrant, Chacon reacted by: leaving the room to see four other patients between 3:15 p.m. and 5 p.m.; calling Drs. Michael Dinh and Jesus Lozano to ask for their advice rather than calling 911; ordering staffers, some of whom had no medical background, not to call 911; and lying to Megan Espinoza's husband Moises "Moe" Espinoza about what was really happening.
"Chacon made the conscious decision to stop others from providing emergency lifesaving efforts on at least 7 occasions," the warrant alleged (emphasis as it appeared in the document):
Moises Espinoza called Divino at approximately 2:30 P.M. to check on his wife. Chacon instructed his employees to lie about her condition. Moises would likely have called 911 himself if he had been told about his wife's true condition.

Moises Espinoza called Divino at approximately 3:30 P.M. to check on his wife. Chacon instructed his employees to lie about her condition.

Chacon lied to Dr. Lozano, stating the patient had neverlost a pulse, or blood pressure. If Lozano had been informed of the true facts, he, "would have called 911 himself."

Chacon made a second call to Lozano, again hiding the true facts. Chacon then declined Dr. Lozano's offer to come in and assist.

Chacon called Dr. Dinh at 4:49 P.M. and hid the fact that Espinoza's heart had stopped. Dinh told Chacon to call 911, but Chacon did not.

Chacon called Dr. Dinh at 5:03 P.M. and hid the fact that Espinoza's heart had stopped. Dinh told Chacon to call 911, but Chacon did not.
The DA's office said that Chacon did not call 911 until 3 hours after Espinoza's heart stopped. By then, it was much too late to save her.
"A chest tube was inserted and over the next five days," the warrant said. "Espinoza's pulmonary function improved. However, her neurological function remained critical. On 12/24/18, Espinoza was transferred to UCSD Medical Center's Neurological Intensive Care Unit, where her condition continued to deteriorate. Physicians notified Espinoza's husband and mother that she was not expected to regain neurological function. The family chose to place Espinoza on palliative/compassionate care. Espinoza never regained consciousness, or the ability to breath[e] on her own."
Espinoza died on Jan. 28, 2019, at 10:26 p.m., the warrant said. An autopsy determined that she passed away from "ischemic encephalopathy […] caused by a lack of blood flow and oxygen to the brain."
Chacon allegedly saw at least four other patients in the hours after Espinoza's cardiac arrest but before he called 911 at 5:24 p.m. and was described as acting "robotic" during that time-frame — "as if he wasn't concerned," as the warrant put it. Nor did he tell Megan Espinoza's husband about her condition until 5:41 p.m., documents alleged.
During his 911 call, Chacon allegedly described the dying patient as "not following commands."
"She's not following commands. She's being bagged. She's, you know, waking up from anesthesia. Her eyes are open. She's making movements and moaning. That's what we have," Chacon allegedly said.
The warrant further alleged that Carla Hernandez, the surgical technician who "admitted she had personally injected Espinoza with anesthetics," pursued a business major for two years but did not graduate.
"Hernandez holds no certifications related to being a medical assistant," the warrant said.
"Hernandez first knew that something had gone wrong during Espinoza's surgery when the first implant was in," the warrant continued. "At that time, Espinoza's color began changing and the surgical monitor began making some sort of beeping sound."
In addition, circulator Zenia De Los Santos — who acted "as a conduit between the sterile personnel in the surgical room and outside personnel and supplies" — was a high school dropout who "did not obtain her GED until after she quit her employment with Divino Plastic Surgery."
De Los Santos recalled "loud" music blaring at the office and said she felt abandoned by Chacon amid the medical emergency.
"What got me the most upset is that during everything it was just me, [nurse] Heather [Vass] and Carla," the former employee said, adding: "Throughout the whole time he was doing calls."
The warrant concluded that Chacon had displayed the kind of deliberate inaction with conscious disregard for human life required for a charge of second-degree murder committed with implied malice.
From the warrant:
I believe Chacon engaged in an effort to conceal his conscious disregard for Megan Espinoza's life by:

Lying to Dr. Lozano and Dr. Dinh about Megan Espinoza' true condition. Chacon's calls to these doctors were for plausible deniability and an attempt to spread the blame for how he mishandled the emergency.

Lying to the 911 Dispatcher about Megan Espinoza's true condition to create a false official record and cover up her dire physical condition.

Lying to the accreditation representative and omitting the almost 3-hour delay in calling 911.

Lying in his civil deposition about what he told Dr. Lozano and Dr. Dinh during his phone calls regarding Megan Espinoza's cardiac arrest and his ineffective resuscitation efforts.warrant concluded.
In December 2022, KGTV reported that Megan's family had reached a settlement in a lawsuit against Chacon.
"I feel like my real closure will be when he's not practicing anymore," Moe Espinoza said at the time, also providing an update on the couple's two sons. "I feel that they're thriving in school. They're enjoying life as much as they possibly can without a mother."
The husband previously expressed outrage that Chacon continued his plastic surgery practice even after he and nurse Heather Lang Vass were initially charged with involuntary manslaughter. That prompted at least one state senator on March 11, 2022 to highlight the case and demand greater transparency from the California Medical Board.
The Board had recommended discipline in December 2021 against Chacon for alleged gross negligence, repeated negligent acts, failure to maintain adequate and accurate records, incompetence, aiding and abetting the unlicensed practice of medicine, unprofessional conduct: false advertising, and unprofessional conduct: dishonest/corrupt acts. A court also ordered the surgeon's license restricted as a condition of bail:

But Chacon continued to practice for months after the criminal charges against him, and he reportedly wasn't required by state law to notify patients of the case.
On March 18, 2022, an administrative action was taken by the Arizona Medical Board; records show the doctor graduated from the University of Arizona College of Medicine.
The Arizona Medical Board had restricted Chacon's license as part of an "Interim Consent Agreement."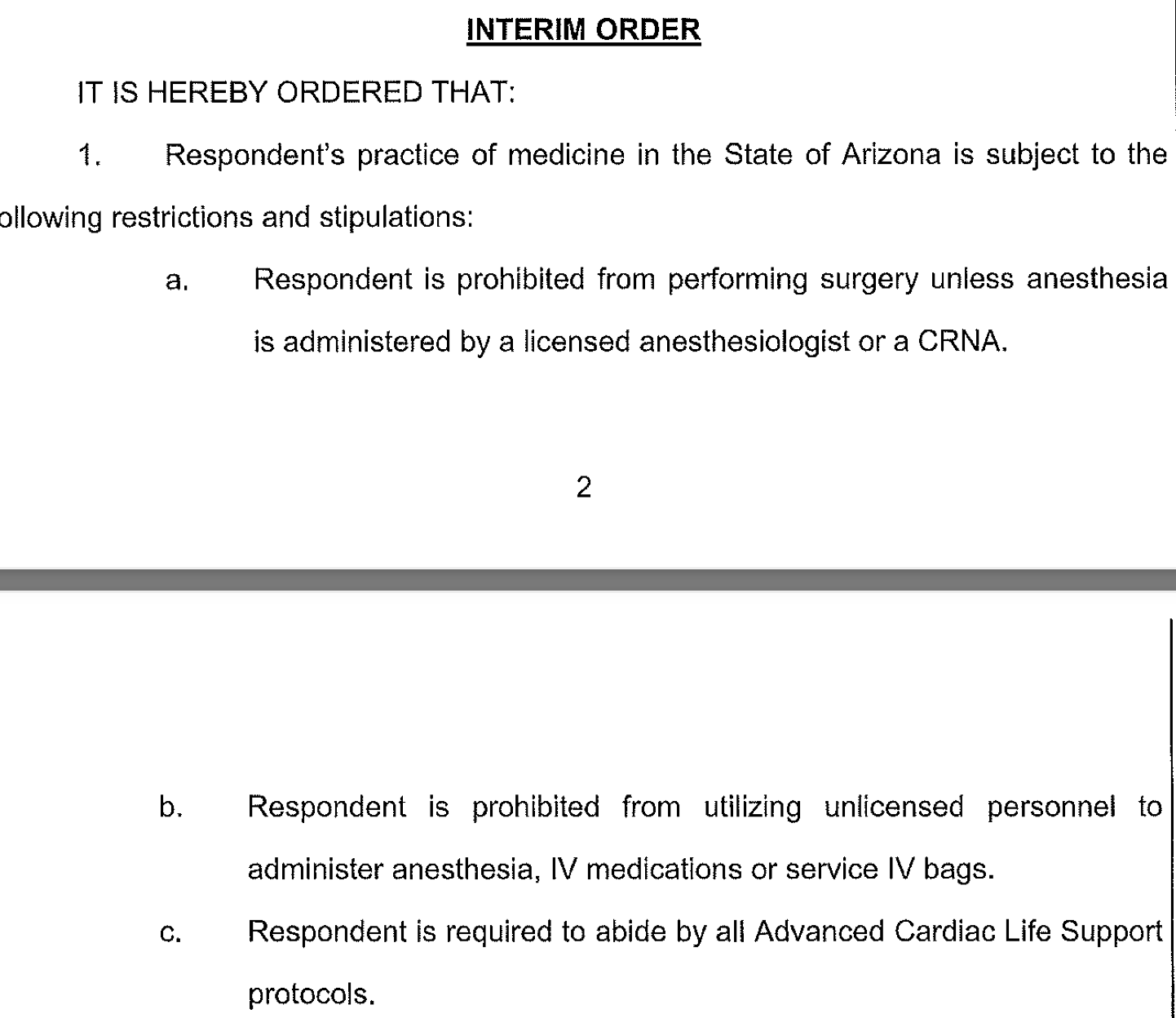 An obituary said that Megan Espinoza was a kindergarten teacher, a "devoted" wife and mother, and "a truly amazing person."
"Megan's teaching career was something for which she had the utmost passion," the memorial said. "She taught kindergarten and T-K for the Cajon Valley Union School District, and taught in San Ysidro and San Diego earlier in her career. Megan loved spending time at the beach, cooking, gardening, going on walks, taking yoga classes and taking pictures, especially of her boys. She loved being with family and arranging get-togethers with her many friends, but being with Moises and her boys were her greatest joys."
Chacon was arrested at his office last week and appeared in court on Monday. He pleaded not guilty. His bail was set at $500,000, the DA's office confirmed to Law&Crime. The warrant had recommended $5 million bail.
Chacon will have to surrender his passport to his lawyer when released from custody and cannot travel outside of California. He must notify potential patients of the criminal charges he faces, and must received permission from the state three days (within 72 hours) before performing a surgery. The restrictions Law&Crime mentioned above also remain in place.
Chacon's defense attorney Marc Carlos told a local news station that the charges are unsupportable.
"The new evidence is that he walked into a different room and checked on patients," Carlos reportedly told Fox 5 San Diego. "That's new evidence? It's a murder charge, not malpractice charges. It requires more than that."
"This should be a civil case," the attorney reportedly told San Diego ABC affiliate KGTV. "It should not be a criminal case. There's nothing in Dr. Chacon's conduct that rises to the level to be charged with second-degree murder. This is a tragic accident. It's misfortunate and at best it's a negligence case which has already been settled."
Have a tip we should know? [email protected]