Just 72 days after getting married at the Lancaster County courthouse in Nebraska, a husband killed his wife and a man she had recently started dating. Then he turned the gun on himself.
Authorities believe that Rex Goodell, 26, traveled on June 4 from Lincoln to Grand Island, around an hour-and-a-half away, and shot Emily Goodell, 23, and Hayes Morgheim, also 23, at a home belonging to Morgheim's mother. The Grand Island Independent reported that the shooting took place in the early hours of that Sunday morning after Rex Goodell tracked Emily Goodell, potentially through her phone, to the Morgheim residence.
The report said that Hayes Morgheim met Emily Goodell online and that the two had only gone out on a couple of dates before he drove to her Lincoln home, at her request, the Saturday night before the slayings. Emily had reportedly told Hayes she didn't feel safe at home with Rex, so the new boyfriend picked her up and drove her to his mother's home.
Emily's relationship with Hayes was so new that the first time his mom and his mom's fiancé met Emily was the night before they were killed, the report said.
After Rex Goodell arrived at the home, he repeatedly shot Hayes outside the residence. That was around 2:15 a.m. on Sunday. Goodell then "kicked" his way into the residence to find Emily, where he shot and killed her, the report said.
The harrowing report said that Rex Goodell, described as "yelling and raising all hell," took his own life upon the realization that police were closing in.
More Law&Crime coverage: West Virginia man said he 'blacked out' and 'messed up' by beating newlywed wife to death, cops say
On Facebook, Rex Goodell said he was a "Husband and Father of 2 wonderful kids, 2 cats, American Staffordshire Terrier and Chocolate Lab." The page is filled with posts expressing his appreciation for Emily Goodell.
"Moms are never fully appreciated. I certainly recognize these moments though and are so thankful for my kids to have such a wonderful mother!!!" he wrote as recently April 14, sharing a photo of Emily and their children.
In July 2022, Rex referred to himself as the "Clyde to her Bonnie" while referencing the "crazy, bumpy, and adventurous roads" they'd traveled together. He asserted that Emily was his soulmate while winking that she was also his "hell."
"This strong, Independent, amazing, beautiful and kind woman and I have been down some crazy, bumpy, and adventurous roads together.! I have the privilege to have her be at my side during this crazy journey we are on. We've created a wonderful life together and got to amazing kids out of it. I'm thankful every day to be the man at her side, the Clyde to her Bonnie, her partner in crime, and best of all her best friend and she mine. She is my one and only and my soul mate," he wrote. "[L]ove this woman with all my heart, to the moon and back, and to infinity and beyond. She is my rock, my heaven, and my hell 😉. I can't wait for the adventures we have ahead of us and to watch our kids grow up together. I'm truly blessed to have found this amazing woman."
In October 2020, Rex Goodell thanked then-fiancée Emily Goodell for going to a shooting range with him.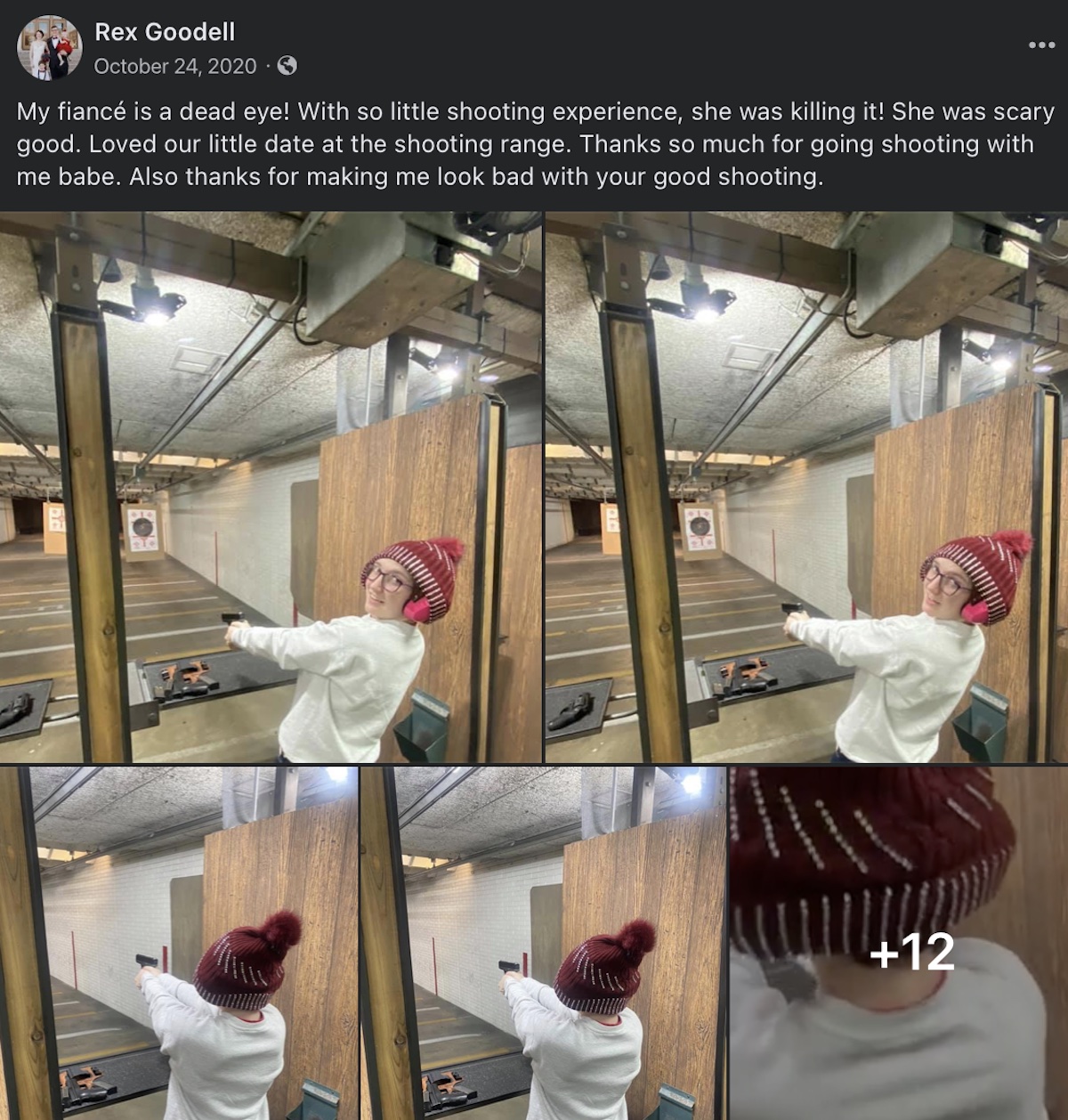 "My fiancé is a dead eye! With so little shooting experience, she was killing it! She was scary good. Loved our little date at the shooting range. Thanks so much for going shooting with me babe. Also thanks for making me look bad with your good shooting," he wrote.
Hayes Morgheim's obituary said that his wake will be held Friday and a celebration of life will follow on Saturday morning in Grand Island.
Have a tip we should know? [email protected]