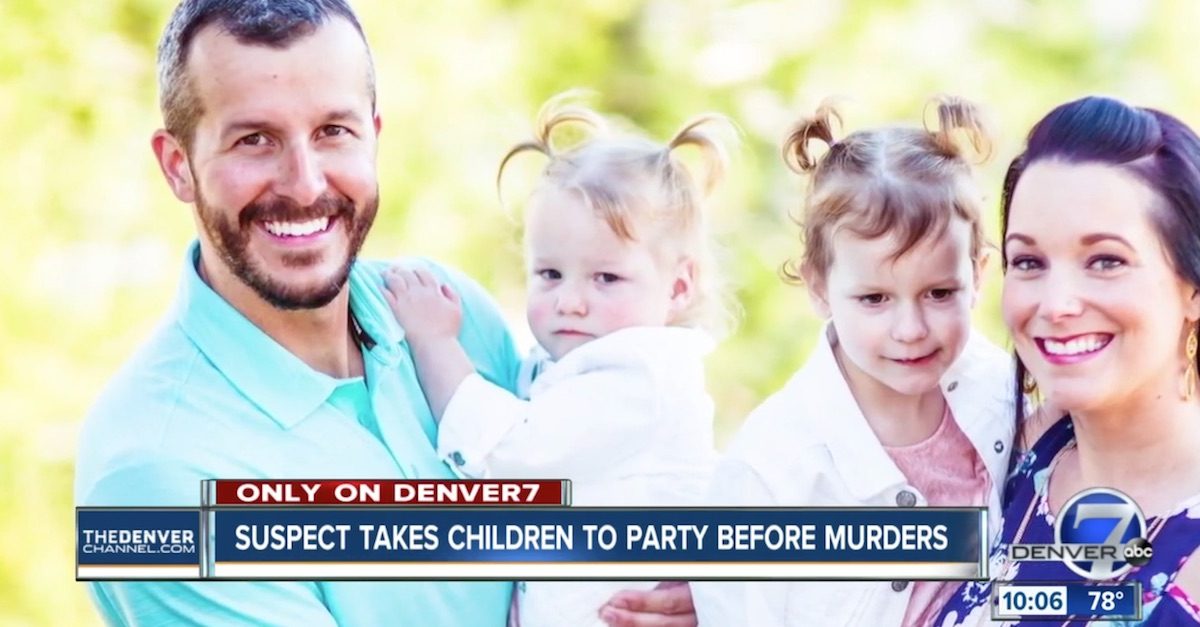 Just days before Shanann Watts and her two daughters, Celeste and Bella, went missing and Colorado dad Christopher Watts was charged for their murders, the Watts family attended a children's birthday party at a friend's house, a family friend said.
Jeremy Lindstrom told Denver7 that the "why" of it all is what he is struggling to understand. Lindstrom had recently hosted the Watts family at a birthday party for his son. He said that he was close to them.
"You know, the hardest part about it all is – when you're closer to the family … is the 'why?'" he said. "The why gets bigger."
"We're dumbfounded. We don't get it. Lost," he added. "It's just horrible. Why do people do this? Why does it come down to this?"
Lindstrom said that alleged triple murderer Christopher Watts was the kind of guy who would help you out whenever you needed.
"He would reach out and help anybody that needed help with anything," he said. "He was a good mechanic if you needed help with your car – he'd help you. If you needed help with furniture, he'd be over there in a heartbeat to help you out. You don't know what, when, why, where or how everything goes weird."
Neighbor and friend Ashley Bell told CBS4 she couldn't believe the Christopher Watts she knew could have murdered his family and then gone on television to ask for help in finding them.
"I kept telling myself, no no he wouldn't do anything to her giving him the benefit of the doubt," Bell said.
Nick and Amanda Thayer were also blindsided by the news that their friend, Watts, was charged with murder. The couple took Watts in after his family went missing.
Now they're saying they "feel so stupid […] trusting him to stay the night in the same house as our daughter."
Amanda Thayer said that their "48-to-72 hours" with Watts "he was his normal self."
"He never once cried," she added.
"He fooled us. And I'm so sorry. We just thought we were doing the right thing by being a good friend," Nick Thayer added. "We were duped."
We learned Thursday evening that authorities had tragically found what the believed to be the bodies of 4-year-old Bella and 3-year-old Celeste Watts at a property belonging to Anadarko Petroleum, their dad's now-former employer. It was later reported that their bodies were found dead in "mostly full" oil and gas tanks. Authorities said that they believe this was done to hide the smell of decomposing bodies.
The town of Frederick, Colorado announced Thursday that investigators found two bodies they had "strong reason to believe" were the missing children. The girls had been missing since Monday, along with their mother. The bodies were found "in close proximity" to where Shanann Watts was found dead earlier Thursday.
"This is absolutely the worst possible outcome that any of us could imagine," said John Camper, director for the Colorado Bureau of Investigation, in a press conference Thursday.
Two law enforcement officials said Watts did admit to the killings. Authorities said Shanann was 15-weeks pregnant at the time she was declared missing Monday.
On Tuesday, Christopher Watts claimed to have no idea where his missing pregnant wife and daughters were. Whats now faces three first-degree murder charges.
Watts, 33, went on television and begged for help in finding his wife and children. The ABC 7 interview went on for several minutes. Watts looked into the camera and said "Shanann, Bella, Celeste … if you're out there, just come back."
"If somebody has her, please bring her. … This house is not complete without anybody here. Please bring them back," he continued.
Watts originally explained that they were just … gone.
"I walked in the house and — nothing," he said. "She wasn't here. The kids weren't here." Watts' explanations of what he thought happened were vague.
"I don't know what to do right now. I just feel so alone in this house right now. I don't know where to go from here," he added.
The infamous interview has now been viewed more than 2.5 million times.
[Image via Denver7 screengrab]
Have a tip we should know? [email protected]