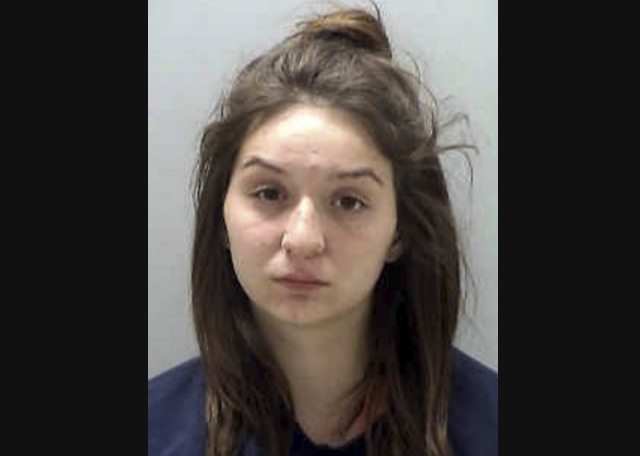 A young mother in Minnesota admitted to fatally shooting her boyfriend during an ill-fated YouTube video prank last summer.
Twenty-year-old Monalisa Perez pleaded guilty to one charge of second-degree manslaughter over the June 26 death of 22-year-old Pedro Ruiz III.
While filming the stunt gone awry, Perez shot Ruiz just outside of their home.
Prior to the tragic turn of events, Perez and Ruiz were relatively popular YouTube pranksters. The couple is said to have intended the shooting stunt to catapult them both to viral fame.
Perez teased the stunt on Twitter immediately before it all went wrong–attributing the idea to Ruiz. She wrote: "Me and Pedro are probably going to shoot one of the most dangerous videos ever…HIS idea not MINE."
Me and Pedro are probably going to shoot one of the most dangerous videos ever😳😳 HIS idea not MINE🙈

— Monalisa Perez (@MonalisaPerez5) June 26, 2017
According to the plan, Perez would shoot at a large, hardcover book that Ruiz was holding in front of his chest. Before that, Ruiz had apparently shot a similar book which stopped a bullet in its tracks.
Instead, with multiple cameras filming, the bullet went right through the book, according to Norman County Attorney James Brue.
Perez' plea deal was reportedly well-received by prosecutors and Ruiz' family members. If her case had gone to trial, she faced the prospect of up to ten years in prison, up to a $20,000 fine or both.
Instead, Perez will serve 180 days in jail. She is also prohibited from "any financial compensation" from the video-recording of the killing and is "banned from possessing firearms for the rest of her life."
According to the Star-Tribune, the mother of two will serve her sentence in 30 day stretches over the next three years and will then be eligible to serve out the balance under electronically-monitored home supervision. She'll also be placed on ten years probation.
[image via Norman County Sheriff's Office]
Follow Colin Kalmbacher on Twitter: @colinkalmbacher
Have a tip we should know? [email protected]