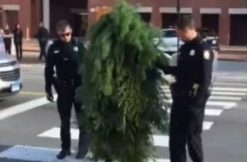 On Monday, cops arrested a man for dressing up like a tree, and blocking traffic in Portland, Maine. Assistant Police Chief Vern Malloch told the Portland Press Herald that 30-year-old Asher Woodworth was cuffed after refusing orders to leave an intersection.
Footage of the dramatic confrontation can be seen here:
Police have arrested a man dressed as tree for blocking traffic on Congress Street…as God is my witness. pic.twitter.com/VUFQY6Vyv0

— TVTEDDY (@TVTEDDY) October 24, 2016
Woodworth reportedly told cops that he just wanted to see the reactions of others, and how he would "impact people's natural choreography." He now faces one count of obstructing a public way, a misdemeanor, and is currently out on bail. The Press Herald reached out to him several times, but he reportedly never agreed to an interview.
[Screengrab via NBC]
–
Follow Alberto on Twitter (@Alberto Luperon)
Have a tip we should know? [email protected]