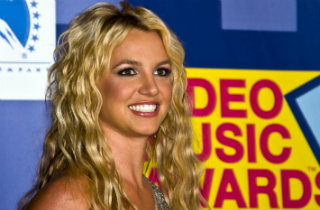 Britney Spears next music video is a controversial one, but it has nothing to do with the content. Instead, an allegedly shady business deal is casting a dark cloud on the production. According to TMZ, Spears' lawyers have sent a nasty letter to Adam Kluger, who runs an agency that arranges product placement deals for various sponsors. According to the letter, which TMZ procured a copy of, Kluger secured an $800,000 deal with dating app Bumble to feature it in the video…even though he doesn't actually represent Spears.
As outlined by the letter, Spears' side claims that Kluger got Bumble to agree to pay $800,000 for the sponsorship, and he would get $200,000 up front. When he struck the deal with RCA, Spears' label, to get Bumble in the video, it was agreed that Kluger would pay $450,000 for the placement. That means that according to Spears, Kluger got more than 43% what Bumble spent, considerably more than a normal agent's fee.
Kruger told TMZ that his job is to be more of a liaison between both sides, and that he never made any claims to Bumble about representing Britney Spears. He even says that he's worked with Spears before on previous deals involving Orange Theory gyms and Plenty of Fish, another dating platform. "We are going to defend the sterling reputation of The Kluger Agency in court as necessary," said Kluger's lawyer. "The allegations are false. The Kluger Agency has done nothing wrong."
The video is being made without Bumble product placement, though the dating app company is financing the production in return for some other deal with Spears.
[Photo: Shutterstock]
Correction: An earlier version of this article confused Adam Kluger with an another Adam Kruger who runs a P.R agency. The Adam Kluger, for which this article refers, issued this statement to LawNewz.com:
The Kluger Agency is both a creative firm and a brand engagement agency that specializes in developing integrated campaigns that appear organic to the general public. These campaigns often involve several activations over the course of many months and are rarely, if ever, specific to a one off deal. Our firms fee is generally a combination of a flat fee for facilitating deals between celebrities and brands, a creative fee for developing the concept and integration of the brand into the celebrity's project and an allotment for general out of pocket expenses that are associated with the amplification of the project and supportive campaigns, such as social media engagement. Some projects require larger allocations and creative budgets than others, often dependent on the complexity of the integration requests.

Due to our relationships with our clients, both on the artist and brand side, we cannot comment on specifics of an individual deal but have executed successful engagements with countless artists in the past, including Lady Gaga and Flo Rida, to name a few.
Have a tip we should know? [email protected]