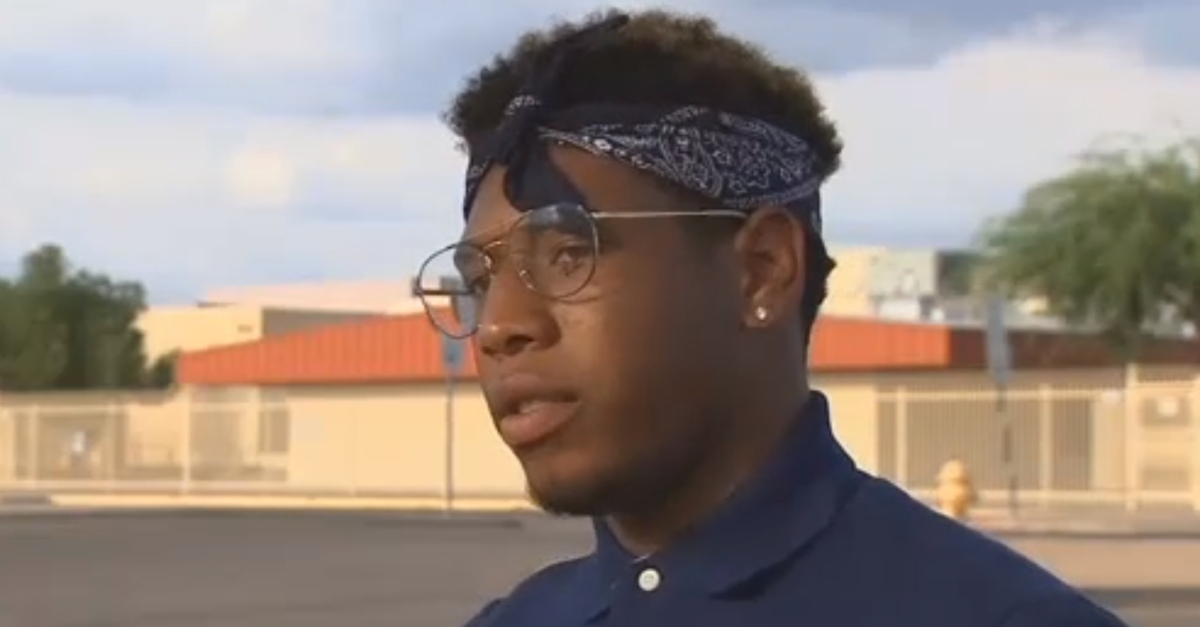 An Arizona teen says a teacher called police on him after he refused to take off his blue bandanna. Senior Valentino Jimenez told CBS 5 that another student was allowed to wear one featuring the American flag.
The confrontation happened during lunchtime.
"I was like, 'Well if the first thing you think of is to call the police then you might as well just do that because it must be that urgent for you to call the police. I must be making such a big scene that you need to call the police, so go ahead,' and then I walked away from her," said the senior form Apache Junction High School.
According to him, a cop said the problem with his bandana was the color. Valentino claimed he pointed out another kid's bandanna. But the officer didn't care because it depicted the flag of the United States.
Cops arrested Jimenez.
"I could've took off the bandanna," he said. "I really could've. But at the end of the day, they tried to tell me I couldn't be me, knowing damn well I wear that bandanna all the time. It was kind of humiliating when you think about it. In front of everybody, just me getting arrested for something that–they try to make it look like I did something so bad."
Cops claim Jimenez was disruptive, non-compliant, and abusive. Three other students, all juveniles, were arrested for charges of disrupting an educational institution, disorderly conduct, and drug paraphernalia.
"At AJHS we do not condone the disorderly/defiant behavior and will take the necessary disciplinary and legal action to discourage it from happening," Principal Angela Chomokos said in a statement obtained by the outlet. "Maintaining a safe-school setting conducive to learning is our top priority."
[Screengrab CBS 5]
Have a tip we should know? [email protected]