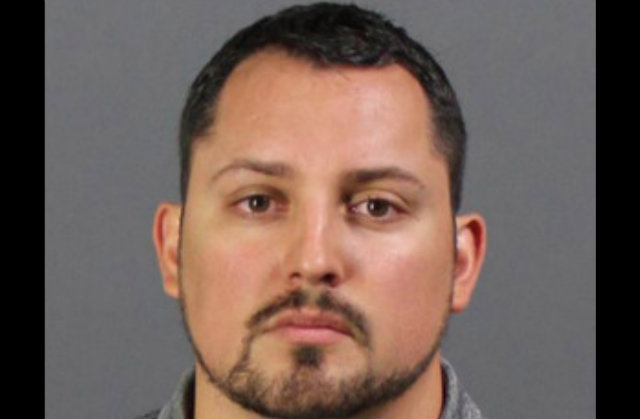 Colorado residents already know about the arrest of former middle school teacher Brian Vasquez, who was first charged in August with sexually abusing multiple young girls between 2013 and 2017. Assuming the claims are true, there's now an alleged explanation as to why he got away with it for so long: School officials helped cover it up. Prairie Middle School Principal David Gonzalez, Assistant Principal AJ MacIntosh, and former counselor Cheryl Somers-Wegienka were each indicted in Arapahoe County on a misdemeanor charge of failure to report child abuse or neglect, according to The Aurora Sentinel.
A girl told school officials her allegation against Vasquez in 2013, investigators claimed. The indictment reportedly said that these adults ran their own investigation instead of following the law and telling police. They allegedly told the student that her allegations could hurt Vasquez's family and career. Eventually, the girl recanted her story, so the officials suspended her for lying. During their meeting, they made her apologize to and hug Vasquez.
Her allegation was true, however, according to cops. They claim the teen was just one of a several girls Vasquez molested. The youngest was 14. Detective Patrick McGinty of the Aurora Police Department testified during a preliminary hearing last year that their investigation started over a claim that Vasquez exchanged improper texts with an underage girl, according to the Sentinel. When questioned by police, this teacher not only confessed, but offered the names of four other victims, according to testimony. He also admitted to having sexual contact with them, McGinty said. Police found the girls and corroborated the story.
In one allegation, an alleged victim told cops Vasquez tried to press her into sex by saying that her friend had had relations with him, and therefore had become "his favorite." In another, this teacher allegedly groped a student during class. Another girl told cops her inactions with him pretty much only involved sexual pictures, and she had to often stop his attempts to grope her. Vasquez's attorneys reportedly tried to shoot down certain charges in court because the girls often had trouble remembering dates, but the lawyers failed.
It's unclear which of the girls was suspended since their names have not been publicized–they are minors and alleged victims in sexual assault.
Gonzalez, MacIntosh, and Somers-Wegienka could not be reached for comment. Their employers with the Cherry Creek School District sent a letter to parents after the indictment. They said Gonzalez and MacIntosh were put on leave. Somers-Wegienka no longer works for the school district. Law&Crime obtained the statement from Executive Director of Schools Tracey Grant:
Dear Parents/Guardians of students in Prairie Middle School:

This letter is to inform you that two Prairie Middle School administrators, Principal David Gonzales and Assistant Principal A.J. MacIntosh, have been placed on leave pending the outcome of legal proceedings related to charges for failing to report child abuse. Former school counselor Cheryl Somers, who no longer works for the district, has also been named in the legal proceedings, all of which stem from a grand jury investigation. We will continue to cooperate fully with law enforcement in this matter. It is important to note that at this time none of these three have been convicted of any crime.

Prairie has a strong school community and we will continue to work together with staff, teachers and parents to provide outstanding educational opportunities to all of our students. A plan is being developed to provide interim administrative support. We will communicate additional details by Friday, January 12.
Communications Director Abbe Smith confirmed to Law&Crime that Vasquez was "dismissed" from the school district last Sept. 5.
This former teacher originally faced only eight counts; that got bumped up to 31 felonies in late August.
Gonzalez, MacIntosh, and Somers-Wegienka are all scheduled for a court date in Arapahoe County next January 23.
[Vasquez's mugshot via The Aurora Police Department]
Have a tip we should know? [email protected]