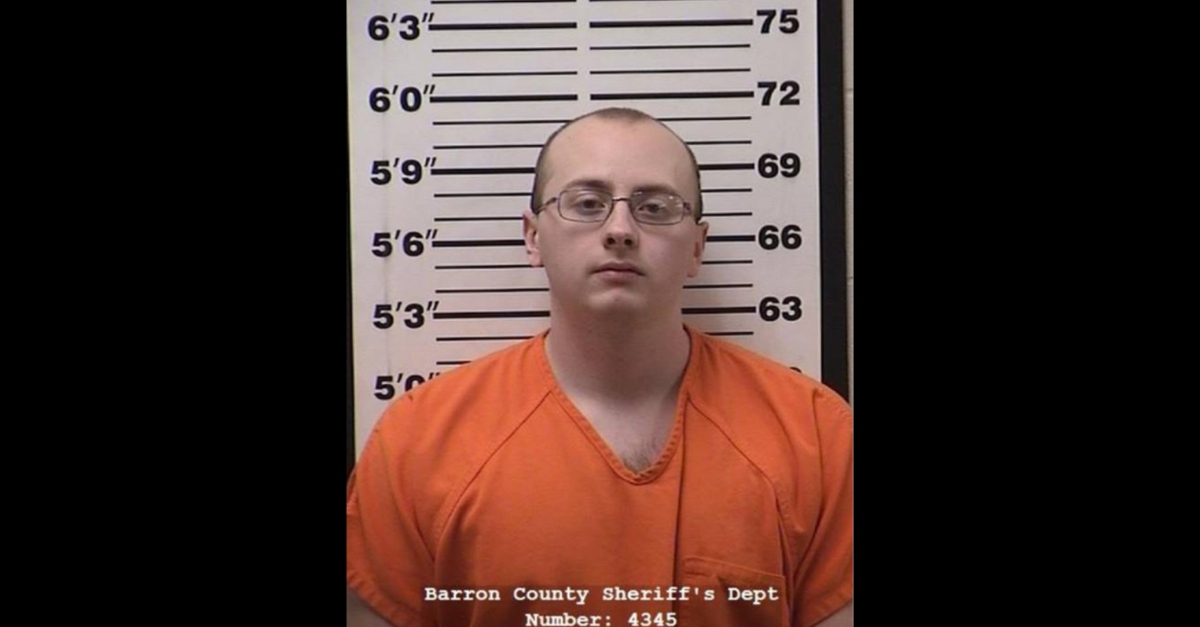 Prosecutors say Jake Thomas Patterson, 21, confessed to kidnapping 13-year-old Jayme Closs and killing her parents Denise and James last October. Even one of his defense lawyers said that the alleged confession was going to be a problem. Closs also provided a detailed statement about how the defendant held her captive for months, according to deputies.
Based on the available information about the case, it seems circumstances are stacked against Patterson in every possible way. Then again, an arraignment is set for March 27, and a lot can change in the discovery process. With all of that in mind, we asked our legal experts if Patterson was completely screwed or if he had some leverage in this case.
Short answer: He's screwed.
"To answer your question, Patterson is as close to 100 percent screwed as a defendant can be without actually pleading guilty," said Aaron Keller, host of The Daily Debrief on the Law&Crime Network.
The long answer has to do with the combination of the reported evidence, the difficulty of winning on an insanity defense, and the possibility that prosecutors may not want to accept a plea deal considering the heinous nature of the allegations. The only apparent option is to establish mitigating factors for the sentencing portion of the case.
Law&Crime Network host Julie Rendelman told us that the evidence against Patterson is "overwhelming." She suggested that the best thing his defense can do is explore every option at their disposal, including the insanity defense, or a quick guilty plea.
Either path will be difficult to walk.
First, let's discuss the insanity defense. Keller, Rendelman, and Law&Crime Network host Bob Bianchi agreed that Patterson's alleged planning of the crime would undermine an insanity defense. Prosecutors said the defendant decided to kidnap Closs after seeing her get on a bus, and he executed the plot in his second attempt. Barron County Sheriff Chris Fitzgerald said Patterson shaved his head to avoid leaving evidence at the Closs residence.
"Logically speaking, if for example, as is alleged here, the defendant changes his license plate to avoid detection in a murder and kidnapping, it's fairly clear he's aware that what he is doing is wrong which flies in the face of an insanity defense argument," said Rendelman, a defense lawyer and former prosecutor in Brooklyn, New York.
Keller, who worked for a while as a reporter in Wisconsin, said that defendants who plan their crimes have a difficult time overcoming the mental illness standard under the model penal code. Wisconsin follows that standard. He said that prosecutors will likely bolster their case with DNA collected from Patterson's cabin in Douglas County, Wisconsin. Closs' testimony would be "the nail in the coffin."
That isn't to say that a mental illness defense would be fruitless. It could benefit Patterson in a sentencing hearing. Legally speaking, it would be unlikely for a jury find him not guilty by reason of mental illness, but a mental illness could still serve as a mitigating factor in his potential sentencing if he's found guilty, said Rendelman.
What about a plea deal? Rendelman said that's an option: Patterson's attorneys would have to show he is taking full responsibility. Keller suggested that while the defendant has yet to enter a plea, the lawyers would likely be telling him behind the scenes that the case is pretty much "impossible."
Perhaps the defense could seek a plea deal. It doesn't mean that's going to be successful either, however. Barron County authorities would need to accept it.
The defense "will have to try to convince the prosecutors to give him some sort of deal to spare the public and court and prosecutors a trial," said Bianchi. "It will be a very hard argument."
Bianchi, the former lead prosecutor out of Morris County, New Jersey, told Law&Crime that he would have "no mercy" in a case like this, due to the nature of the crime  and the strong evidence against Patterson. He wouldn't be willing to offer a lesser punishment.
Investigators said the defendant approached the Closs home in Oct. 2018 and shot James Closs in the head. After that, he found Jayme and her mother Denise hiding in the bathroom. There, he allegedly shot Denise in the head, kidnapped Jayme and kept the girl imprisoned in his home until her escape in early Jan. 2019, authorities said.
Bianchi said he would never offer a plea in a case like this.
"There are many cases where you can wrap your arms around the reason why a person commits a crime. This is not one of them," he said. "It is a random, heinous, cruel, and ongoing crime on an entire family, not to mention a little innocent girl who witnessed her parents slaughtered and then suffers in captivity at this maniac's hands."
[Mugshot via Barron County, Wisconsin]
Have a tip we should know? [email protected]