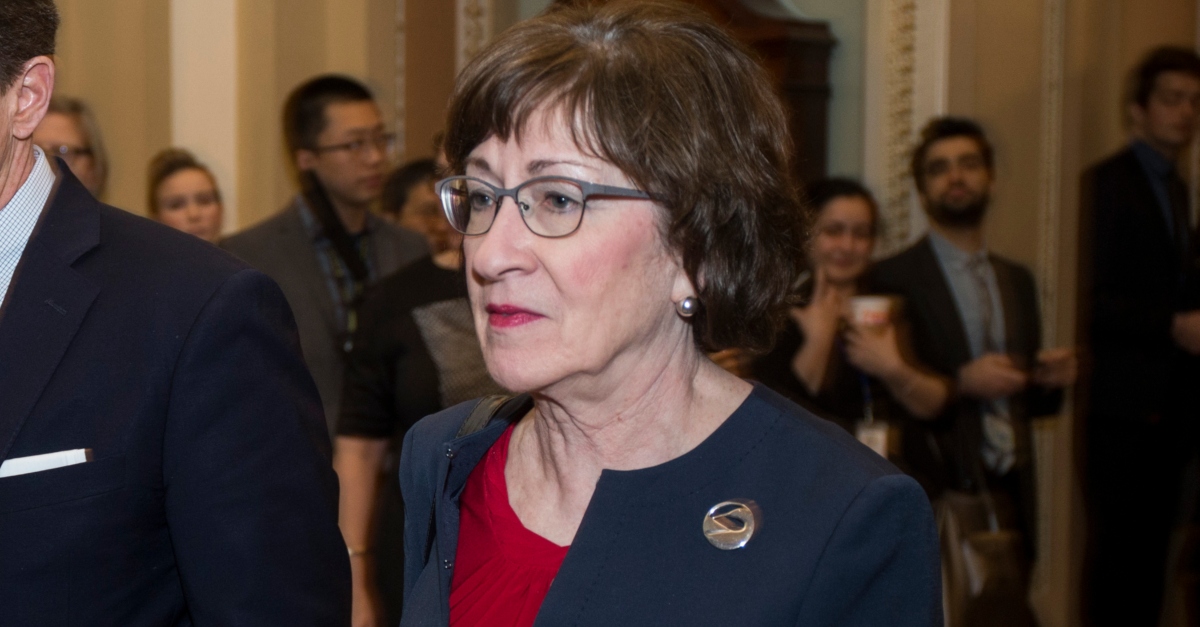 The person who allegedly sent Republican Sen. Susan Collins (R-Maine) a threatening letter that claimed to have been contaminated with "ricin" in Oct. 2018 has been identified as Suzanne E. Muscara, 37.
Muscara, who faces one count of mailing threatening communications, waived her Miranda rights and told federal investigators she thought the missive would be intercepted before it reached the politician, according to an affidavit obtained by Law&Crime. The defendant allegedly said she didn't believe the note would be taken seriously.
The FBI said that Muscara sent two letters.
The first arrived at Collins' home in Bangor back on October 15, 2018. Her husband Tom Daffron opened the envelope, which was addressed to him. It read that it was "coated in Riscin residue," said "Good Luck to you and Susan in the next life," and "your wife has betrayed the people of Maine along with the American people and this will be her downfall," according to the affidavit.
A Collins spokeswoman wrote about it at the time.
Senator Collins's husband, Tom Daffron, today received a threatening letter that the writer claimed was contaminated with ricin, a highly hazardous substance which was used in a previous attack against the United States Senate. (1/4)

— Annie Clark (@annieclark25) October 16, 2018
It wasn't ricin. It wasn't even a hazardous material, the FBI said. Nonetheless, officials with the U.S. Postal Inspection Service had an inspector hand-screen mail sent to the Daffron-Collins home. He intercepted a second threatening missive on October 17, 2018. It contained a fine white power, but it wasn't ricin. It was starch, authorities said. The envelope featured a flyer reading "AnthRAX!! HA HA HA!!" with a stick-figure featuring "X" for eyes, a tongue sticking out, and the word "You" with an arrow pointing to the figure.
This led to Muscara's arrest, the FBI said. Fingerprint analysts claimed that she left a print from her right thumb on the outside of the envelope. Investigators were able to track her down because she was in a database after a 2013 arrest in Pennsylvania, according to the affidavit.
FBI agents arrested Muscara on Friday. Her attorney of record did not immediately respond to a Law&Crime request for comment.
The affidavit does not detail an alleged motive, but one of the letters was opened nine days after Brett Kavanaugh was confirmed to the Supreme Court. After making no promises as to how she would vote given the sexual assault allegations against Kavanaugh, plus questions about his abortion stance, Collins eventually decided to vote in favor of Kavanaugh's confirmation. The vote was 50-48.
Suzanne E. Muscara Affidavit by Law&Crime on Scribd
[Image via Zach Gibson/Getty Images]
Have a tip we should know? [email protected]