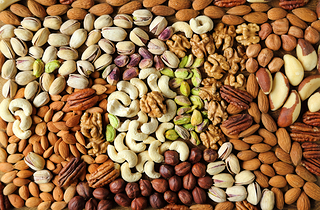 The San Joaquin Valley in central California is the nut capital of state, with almonds, pistachios, and other pricey kernels being a large part of the local economy, grossing $9.3 billion in 2014. In recent months, though, the local nut growers have had a previously unforeseen problem to deal with in the form of rampant theft. It's not petty thieves and scavengers targeting them, though: it's the region's organized criminal organizations.
"This is not anything we've really seen before … we've experienced 30 thefts in the last six months," said Roger Isom, the CEO of the Western Agricultural Processors Association in an interview with CNN. The robberies aren't by force, though, with the criminals instead opting to use social engineering to manipulate the growers.
The thieves apply online for cargo gigs with the growers, using the name of a real trucking company but changing the contact information. If whoever is handling shipping on the grower's end isn't closely scrutinizing the contact information, they find themselves with a truck full of nuts that vanished into thin air instead of reaching the destination. This rise in theft is a recent phenomenon: There was exactly one such nut hijacking in 2009, but that number rose to 32 in 2015.
A number of different aspects of this kind of theft make it incredibly attractive to large criminal organizations. The trip is supposed to take several days, anyway, so the truck can easily disappear long before whoever ordered the nuts starts wondering where they are. The delicious cargo itself isn't traceable at all, it's easy to distribute, and its black market value is comparable to its above board selling price. An article at SFGate also noted that stealing nuts is not a felony, the theft can be done in a non-violent way, and it's a valuable crop with a long shelf life.
While local law enforcement has formed a task force to deal with the nut theft, they're going to have a hard time determining how to track down the stolen cargo.
Have a tip we should know? [email protected]