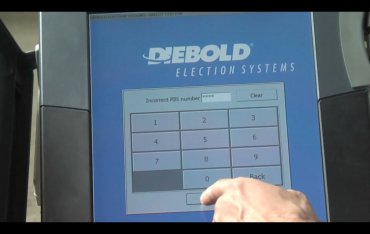 A documentary film premiered earlier this year at the Tribeca Film Festival that takes a look into election integrity issues, including voter irregularities and risks associated with electronic voting machines. Amid reports of high profile hacks at organizations affiliated with the Democratic Party, and Donald Trump's assertions that the election might be rigged, election integrity issues are sure to remain a key topic this election season.
The opening scene of the trailer for Jason Grant Smith's documentary film I Voted? really encapsulates how little the average voter thinks about how the vote is actually recorded.
"If [a voter] really stopped to examine, or of someone presses them on this, 'Well, how do you know that your vote was recorded the way you intended?'  They have to say, 'Well gee, I don't know,'" former Congressman Rush Holt explains in the opening scene.
They then cut to a parking lot where a young woman is asked, "When you cast your ballot, how do you know that they are getting it right?"
"That they are getting it right? Oh, well isn't that their job to get it right?" the somewhat confused young woman responds.
WATCH:
A separate segment a bit later in the trailer with an activist named Frank Heindel really drives the point home.
"There is no way to prove that what you touch the button for is actually your vote," Heindel says. "It runs through a secret proprietary software program that we have no idea what it is doing to our vote totals at the end of the day."
In an interview with LawNewz.com, filmmaker Jason Smith explained that the goal of the film was to alert the public to the potential problems with the current voting systems used throughout the country.  One major focus of the film is the inability of election officials in some areas to actually prove the outcome of the election is accurate.
For example, Smith points to Donald Trump's recent remarks about a "rigged system," saying they are especially significant in the event the election is decided amid some sort of electronic voting irregularity.  The confusion and doubt surrounding such a scenario would be potentially worse than the 2000 election in Florida.
The reason?
Several key swing states use electronic voting systems with no backup paper trail.  That type of system makes it virtually impossible for election officials to provide proof of how the election results were achieved.
The best way to prevent this type of scenario, Smith says, would be for states to incorporate voting systems with a paper trial.
"We need to have paper based voting with meaningful post election audits that are software independent," Smith said.
A "software independent" audit refers to a type of system that uses a separate vote counting program to tabulate a recount.  This way, if there is flaw in the original vote counting software, the back up audit system software is more likely to catch the irregularity.
As LawNewz.com explained earlier this week, threats from cyberattacks or hacking into the voting system are not exactly far-fetched conspiracy theories.  It is true that there are no confirmed incidents of a voting machine actually getting hacked in a manner that manipulated an election outcome.  However, there are multiple examples of incidents that lead experts to question the safety and reliability of voting systems across the country.
In fact, Department of Homeland Security (DHS) Secretary Jeh Johnson on Wednesday recommended the federal government consider designating the election system as "critical infrastructure."
"I do think we should carefully consider whether our election process is critical infrastructure, like the financial sector, like the power grid," Sec. Johnson said, according to USA Today.
Such a designation would reportedly allow DHS to take steps, working with state and local election authorities, to provide additional protections against cyberattacks and protect the integrity of the voting process.
Additional information about the film can be found at the website ivotedmovie.com.  Audiences will be able to see the full movie in late September or early October, although a specific release date has not been set.
[image via screengrab]
Have a tip we should know? [email protected]