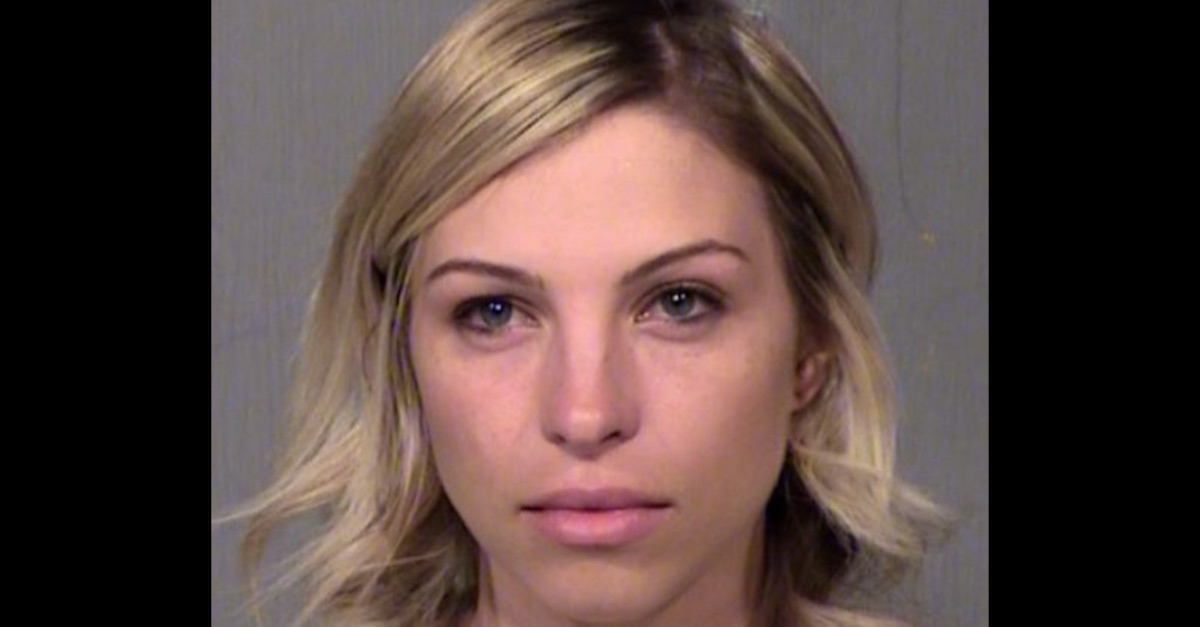 A former middle school teacher accused of having sex with her 13-year-old student allegedly seduced him through a series of text messages prior to those illicit encounters, according to documents recently released by authorities.
Local NBC affiliate KPNX obtained hundreds of pages of evidence from the case last week. In those documents, 27-year-old Brittany Zamora–who previously taught sixth grade at Las Brisas Academy Elementary School in Goodyear, Arizona–appears to begin her relationship with the student she allegedly victimized through a classroom chat.
One day in the chatroom, Zamora allegedly announced that she was going to be sick and not in class. She then asked her students to text her because she would be bored at home.
The alleged victim then obliged. Their text conversation escalated quickly soon thereafter.
"OMG, I love you," Zamora allegedly texted the boy in one message.
Another message allegedly sent to the 13-year-old reads:
Omg lol you're so cute baby. I wish you could've stayed after with me.
To which the teen replied, "Me too. I wish I could just hang out with you whenever we wanted."
The alleged flirting then turned to allegedly trading nude pics, according to the boy's police interview.
Police said this relationship resulted in at least four sexual encounters between the two over the course of February and March 2018. Two of those instances allegedly occurred in Zamora's car after the teenager snuck out of his grandparents' house after midnight–upon Zamora's request. Another such instance allegedly occurred in Zamora's classroom following a school talent show.
The boy then started acting strange.
His parents caught on to this newfound interest in privacy and installed a parental notification app on his phone that alerted them to two back-to-back text messages containing the word "baby."
The boy's parents asked him who sent those messages.
"My teacher," he told them.
After that, Zamora took a phone call with the boy's parents. Detectives with the Goodyear Police Department recorded the interaction. The boy's parents asked Zamora how the relationship with their son came about in the first place.
Zamora allegedly said:
I ask myself the same question … I just got really close after I think everything went down and we're like, "How could that happen?" … We just got close.
The teacher offered to resign without having the authorities involved so that she wouldn't end up on the news. But, of course, by then it was too late.
"I don't want to say stuff and have me recorded right not and bring this to court and have me go to jail for the rest of my life," Zamora allegedly said during that same phone call.
While the illicit relationship between Zamora and her alleged victim was in the beginning stages, Las Brisas Academy Principal Tim Dickey was alerted to "issues" between Zamora and the boy by at least three female students in the class.
He only spoke with one of them and quickly dismissed their concerns. Dickey now says that was a mistake.
[image via Maricopa County Sheriff's Office]
Have a tip we should know? [email protected]