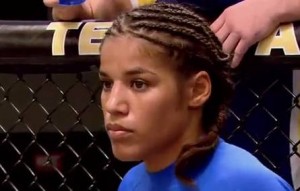 UFC's Julianna Pena won The Ultimate Fighter MMA tournament, but not by taking nut shots. Check out the 911 audio from when she allegedly kicked two dudes in the balls, as shown by TMZ.
Pena was arrested on two counts of assault for the December 20th incident in Spokane, Washington. She and a training partner, Josh Gow, had allegedly been involved with, yes, a previous bar fight, which caused Gow to bleed from the face.
Police reports stated that Pena tried to help Gow get cleaned up, bringing him to a nearby bar called Zola's, according to MMA Fighting.
The bar's employees kept them out, saying the place was closed. Pena and Gow apparently got mad. As one of the 911 callers put it, "They're rubbing their bloody faces on the door."
Witnesses told police Pena kicked a restaurant employee in the balls, then kicked another one in the balls twice.
We need to establish context for those of you who don't follow the UFC.
Pena won the first ever women's tournament for The Ultimate Fighter, a reality show, despite being young and inexperienced. She presents both solid striking ability and a sturdy frame for her 135lb weight class. She is undefeated since joining the UFC, and her name has been touted as a potential challenger for the bantamweight championship, formerly held by Ronda Rousey and now Holly Holms. You do not want to get hit by her.
Cut back to December 20 in the Pacific Northwest. So, yeah, cops say this dame kicked two bar employees in the nuts. Imagine getting a nut shot from a trained fighter. Or don't.
The assault charges may land her up to a year in prison. Not good for the up-and-coming MMA star, whose career has already been postponed by a training accident—which also involved Gow. That dude looks like a bad luck charm at this point.
[image via screengrab and The UFC]
–
>> Follow Alberto Luperon on Twitter (@Alberto Luperon)
Have a tip we should know? [email protected]