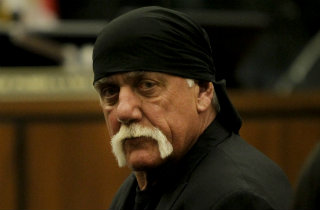 If the celebrity aspect made Hulk Hogan's lawsuit against Gawker become one of the biggest non-election stories of 2016,twists and turns like billionaire Peter Thiel bankrolling Hogan's legal bills gave it a long shelf life. The latest development comes from documents filed in Gawker's bankruptcy case last Monday. Shedding new light on Thiel's plan to destroy the blog company, the document shows that Charles Harder, Hogan's lead attorney, was secretly working on an anti-Gawker lawsuit before Gawker was ever sent the Hogan sex tape.
The case in question is the lawsuit filed by Meanith Huon, a Chicago attorney, over a 2011 post on Jezebel, the women's issues blog that Gawker recently sold to Univision. The article is about Huon suing another blog, Above the Law, for calling him a serial rapist. Huon was actually acquitted of two counts of sexual assault in 2010.   Huon soon added Gawker to the lawsuit. The case against Gawker was dismissed by a district judge. Huon was preparing his appeal when Forbes first reported in June that Harder had been helping him. Huon won the appeal, allowing him to seek new discovery to determine if defamatory statements in the article's comment section were really written by staff members.  Huon got a settlement in Gawker's bankruptcy proceedings. On December 11, Huon did file an objection to Gawker Media's confirmation plan.
However, it seemed as if Harder and his firm had found Huon while already working on the Hogan case, especially since he didn't officially represent anyone else against Gawker until getting a number of new clients in 2016. The new court filing, submitted by Huon, shows that's not the case. As a disclosure to the court, he filed a number of email exchanges he had with Harder's firm, and they go back to September 7, 2012 — one month before Gawker's Hogan sex tape post. That email was sent by Harder five days before Huon filed his Third Amended Complaint (TAC), the revision that a added Gawker to the lawsuit:
Meanith,

My partner, Les, and I added a few additional edits to the draft TAC. See attached. You can generate a redline using Word, comparing this version with the prior version. Also, please note that the new Gawker defendants are not included in this draft – you would need to add them. I also removed my name and firm's name from the bottom. You will be filing this yourself. We are simply helping you out at this point. If we have the opportunity to take depositions on your behalf, then at that point we could formally associate into the case, with you.

Charles
This is the first time that there has been incontrovertible evidence in the public record that Harder was fishing for Gawker-related cases before Hogan fell out of the sky, so to speak. The profile of the Hogan case took him from being a somewhat obscure but successful intellectual property expert to being the new go-to lawyer for suing media companies, with a client list that includes Melania Trump and Roger Ailes.
Editor's Note: This story has been updated to clarify that Huon was acquitted of all charges. We've also clarified that the district judge dismissed his original case against Gawker (however, he did allow the lawsuit to proceed on Count I against Above The Law). We also added in the detail that Huon filed an objection to Gawker's confirmation plan for further clarification.  [Photo: Pool photo]
Have a tip we should know? [email protected]