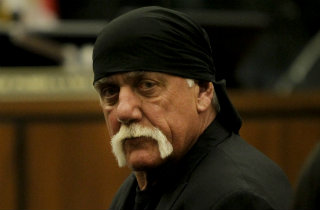 Update 12:30 p.m. ET: Documents filed in bankruptcy court today reveal Hogan has agreed to a settlement of $31 million plus a percentage of the proceeds form the sale of Gawker Media to Univision. More details to come…
Update: 1:30 p.m. ET: Full settlement details are now up in our follow-up article.
—
After four years of litigation with many twists and turns, Hulk Hogan is aiming to settle his invasion of privacy lawsuit against Gawker some time this month, according to a source familiar with the matter who spoke to LawNewz. Hogan (real name Terry Bollea) is apparently wanting the case put to rest before the appeals get going. A settlement may even be considered a win for the former professional wrestler, who now doesn't have to worry about waiting years to collect or the very real possibility of the $140 million verdict being overturned on appeal.
This comes days after the latest hearing in the case, originally scheduled for Monday, was postponed until November 21st.
The case all stems from an October 2012 article posted the now defunct Gawker.com blog which included clips from a 2007 tape of Hogan having sex with Heather Cole, the wife of his best friend, Tampa radio personality Bubba The Love Sponge Clem. Hogan's personal lawyer, David Houston, sent pleas to get the sex tape taken down, but Gawker declined on First Amendment grounds. Hogan sued Clem and Cole in Pinellas County, Florida, and added Gawker, writer A.J. Daulerio, and site founder/publisher Nick Denton weeks later to the lawsuit, settling with the non-Gawker parties along the way. Hon. Pamela Campbell gave Hogan an injunction, demanding the removal of the article and video, only to be overturned by Florida's Second District Court of Appeals.
In the legal world, there was some confusion, because Hogan continued to refuse to settle for years despite reported offers, and the real possibility of a long and drawn out appeal process. As the trial approached, Denton started doing the media rounds, and the company also filed a lawsuit against the FBI, believing that the Bureau's investigation relating to the sex tape may have uncovered important evidence.
The trial came in March, ending with the jury finding for Hogan to the tune of $140.1 million between all three defendants. What experts saw as a seemingly inevitable win on appeal for Gawker was complicated by Florida law, which allows the judgment to be executed quickly and requires an equal bond (capped at $50 million) to appeal it. Gawker filed for bankruptcy, with Denton following several weeks later, while Daulerio hasn't since he would be paying an attorney to protect a few thousand dollars in his checking account. That left him as the only party Hogan could go after for the judgment for the time being.
Less than two weeks before the bankruptcy, the public finally learned why Hogan apparently refused earlier settlement offers. News reports revealed that Peter Thiel, a wealthy enemy of Gawker, funded Hogan's case.  It was a case of revenge for the PayPal founder/Facebook board member/Donald Trump supporter who apparently took offense to a 2007 article on Gawker's now defunct Valleywag blog that discussed him being gay.
With Thiel's involvement out in the open, the Gawker defendants picked up some additional public support, at least in media circles. Daulerio, in particular, became something of a cause célèbre during the summer when Hogan's legal team scrutinized his personal effects, most memorably his rice cooker.
If our sources are accurate in saying that a settlement is imminent, Hogan might be saying goodbye for good to Thiel.
[Photo: Pool Photo]
Have a tip we should know? [email protected]