On Tuesday, the day 33-year-old Nikki Alcaraz once again made contact with her family and was no longer considered a missing person, new bodycam footage showed how a deputy in Torrance County, New Mexico investigated the May 4 domestic violence incident at the start of the case.
When Deputy Erwin Young arrived on scene that day he was met by Alcaraz and Jordan Hamilton, the trucker on I-40 who reported seeing Steven Tyler Stratton punching the Tennessee mom of two in the face.
Alcaraz informed the deputy that she has been with Stratton for 16 years and that they are boyfriend and girlfriend, video showed. Alcaraz asked for a lighter and was frustrated when the deputy did not have one.
"I'm done, I'm over it. I want his ass thrown in goddamn jail," she then said of Stratton.
All the while Stratton was sitting on the ground some distance away in the background by the black Jeep Wrangler he and Alcaraz were traveling across the country to California in.
"Hello, sir," the deputy greeted him. "Put your hands behind your back."
Stratton, blood visible on his face, was placed in cuffs. He was barefoot and had a cigarette in his mouth.
When he denied driving while drinking, the deputy noted that Alcaraz had also denied being the driver.
"Well, someone had to be driving," the deputy said.
Stratton was placed in the back of a squad car as the deputy spoke with Alcaraz, who was sitting in her Jeep with her dog.
"I'm over it. I'm over it," she sobbed. Then she repeated, "I'm pressing charges."
According to the deputy's incident report, Stratton claimed that he was the one driving and that Alcaraz "hit him in the mouth for no reason."
"Mr. Stratton also stated that Nikki does blackouts after drinking liquor," the incident report said. The two had apparently been drinking Fireball and beer.
Stratton stated that he didn't want Alcaraz to go to jail. Once more deputies got involved in the investigation, neither Stratton nor Alcaraz wanted to press charges and neither one would say who was driving the Jeep, the incident report said. The intoxicated couple was separated for the night in New Mexico, authorities said.
"Deputies spoke with both subjects again and neither one would admit to driving the vehicle and they were both intoxicated. Mr.Stratton and Ms. Alcaraz stated that they did not want to assist with any charges being filed. Both Subjects were given a ride from the scene. Ms. Alcaraz was transported to Moriarty, NM. Mr. Stratton will be dropped off in Edgewood, NM," authorities said.
Deputy Young ultimately determined that Stratton and Alcaraz were "mutual combatants" on that May 4.
"I noticed the driver's seat to have been pushed back to indicate a taller person was driving. I noticed numerous blood spatter on the passenger side door which would have come from Mr. Stratton since he was the only one with visible blood on his face. I also noticed blood on the running board. It was determined that both parties were mutual combatants while traveling down the interstate. The bruise on Ms. Alcaraz's arms came from Mr. Stratton holding her down to avoid being hit."
After the domestic violence incident, Nikki Alcaraz reportedly texted her sister Toni on May 9 claiming to be in Arizona, but family became concerned when she had not been heard from in the ensuing weeks. Comparisons to the Brian Laundrie and Gabby Petito case followed. On May 27, however, photos at a Walmart in Redding, California appeared to show Alcaraz trying sell a cellphone at an eco-ATM that pays cash for the device.
Three days later, the Redding Police Department confirmed that Alcaraz was no longer missing.
"On May 30, 2023, at around 4:30 P.M., the Redding Police Department learned Missing Person Nikki Alcaraz was contacted earlier today by the Eureka Police Department and found to be safe," the department said in a statement. "The Redding Police Department has been in contact with the Moriarty, New Mexico Police Department and confirmed Nikki is no longer considered a missing person. The Redding Police Department would like to thank our allied agency partners who assisted with efforts to locate Nikki."
Stratton has since been arrested by the Eureka Police Department in California on an outstanding warrant out of Cheatham County in Tennessee. He was wanted for failing to appear in connection with a separate theft case.
An affidavit from 2020 said that Stratton was convicted of theft on Jan. 22, 2020. He allegedly violated his probation by testing positive for meth and fentanyl on Feb. 4, 2020, just two weeks after the conviction, and didn't contact his probation officer as required.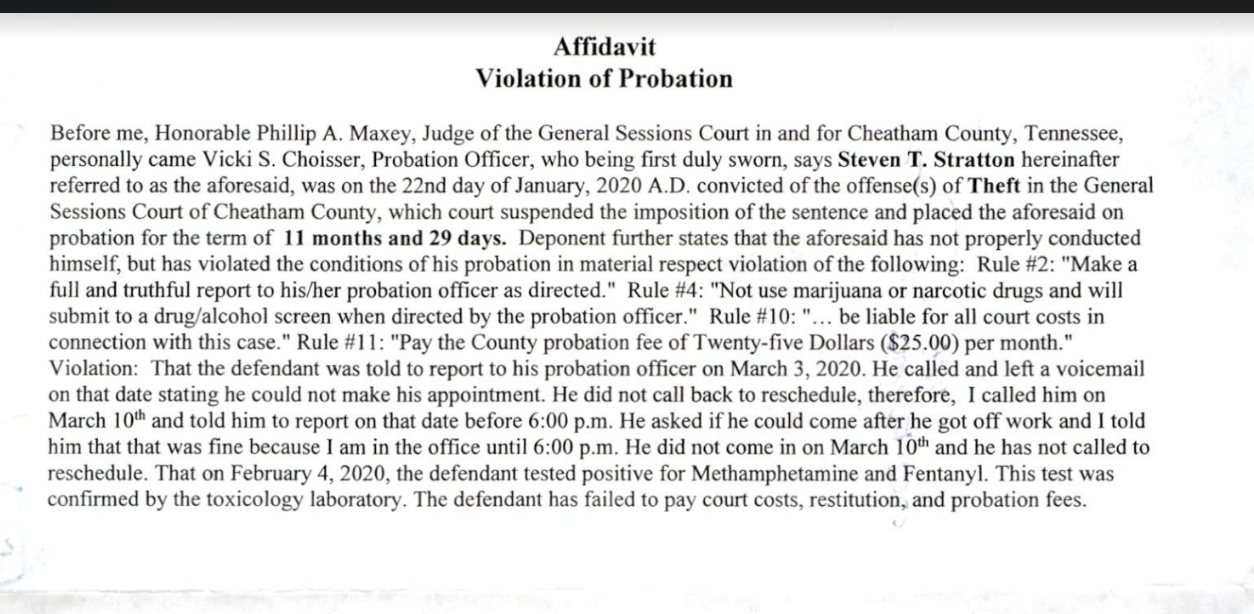 Have a tip we should know? [email protected]