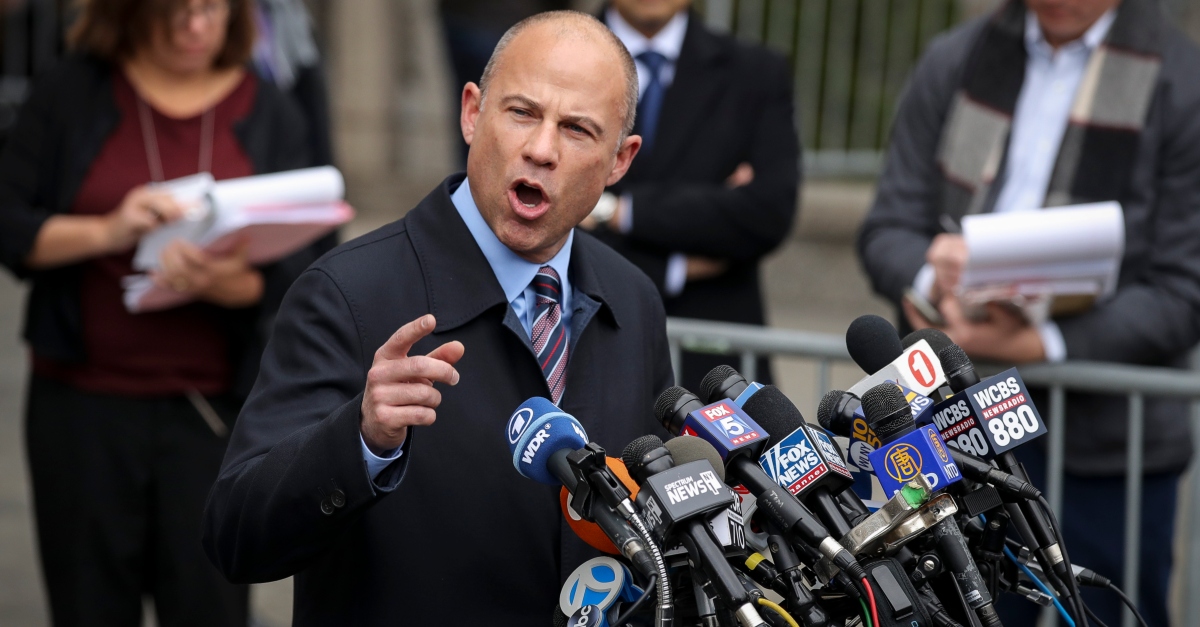 Jacob Wohl was permanently banned from Twitter on Tuesday afternoon not long after the publication of a USA Today article, "This 21-year-old tweeted lies about Robert Mueller and Ruth Bader Ginsburg. Now, he's eyeing the 2020 election," which went into additional detail about a fraudulent plot to smear special counsel Robert Mueller with contrived sexual assault allegations.
Twitter explained that Wohl's "account was suspended for multiple violations of the Twitter Rules, specifically creating and operating fake accounts." The dunking contests quickly began and eventually reached new heights. But perhaps one of the most eyebrow-raising Wohl owns came from attorney Michael Avenatti.
Stormy Daniels' leading advocate and one-time potential presidential contender laid into the Wohl with a tweet suggesting Wohl will soon face incarceration.
At 4:39 p.m., Avenatti tweeted:
Jacob Wohl's account being suspended now makes proactive sense because you are not generally allowed to use one in a federal prison.
Far from just another humorous take down, however, Avenatti's criticism may actually be quite salient and relevant. For one, Mueller's team confirmed that it referred the false sexual assault allegation against Mueller to the FBI.
Secondly, recall: Avenatti was arrested late last year on suspicion of domestic violence. That case eventually fell apart after authorities determined that Avenatti would not be charged with either a felony or a misdemeanor. Throughout the controversy, Avenatti had linked the whole ordeal to the work of Wohl's "private intelligence" firm Surefire Intelligence.
That made sense, too. Immediately after Avenatti was arrested, Surefire Intelligence's Twitter account seemed to take credit for Avenatti's arrest by tweeting, "Surefire Intelligence strikes again." (The tweet in question is no longer available because the entire account has since been suspended.)
As Law&Crime's Matt Naham noted at the time, "make no mistake, if Wohl was behind this as the Surefire Intelligence tweet suggested, he's looking at possible jail time for filing a false report (if it is indeed false)."
After it became clear that Avenatti would not be charged in the alleged domestic violence incident, Avenatti took aim at Wohl and TMZ, which first published those allegations related to Avenatti's arrest in November 2018.
"Jacob Wohl and [TMZ]–I am coming for you," Avenatti tweeted. "In America, you are not permitted to fabricate stories and facts against someone because he is a huge threat to the person you want as president. The truth will be known and you will be held accountable."
Avenatti also predicted that Wohl would be facing criminal repercussions:
Jacob Wohl is a complete fraud who will ultimately be prosecuted for fabricating allegations against me and Mueller. He deserves to be incarcerated to the fullest extent of the law. And he will be. #Basta

— Michael Avenatti (@MichaelAvenatti) November 23, 2018
Are those charges imminent? It's a bit too soon to say. But Avenatti does believe they're still on tap.
"This is only the beginning and will shortly be the least of his problems," Avenatti said in a statement to Law&Crime.
[image via Drew Angerer/Getty Images]
Have a tip we should know? [email protected]