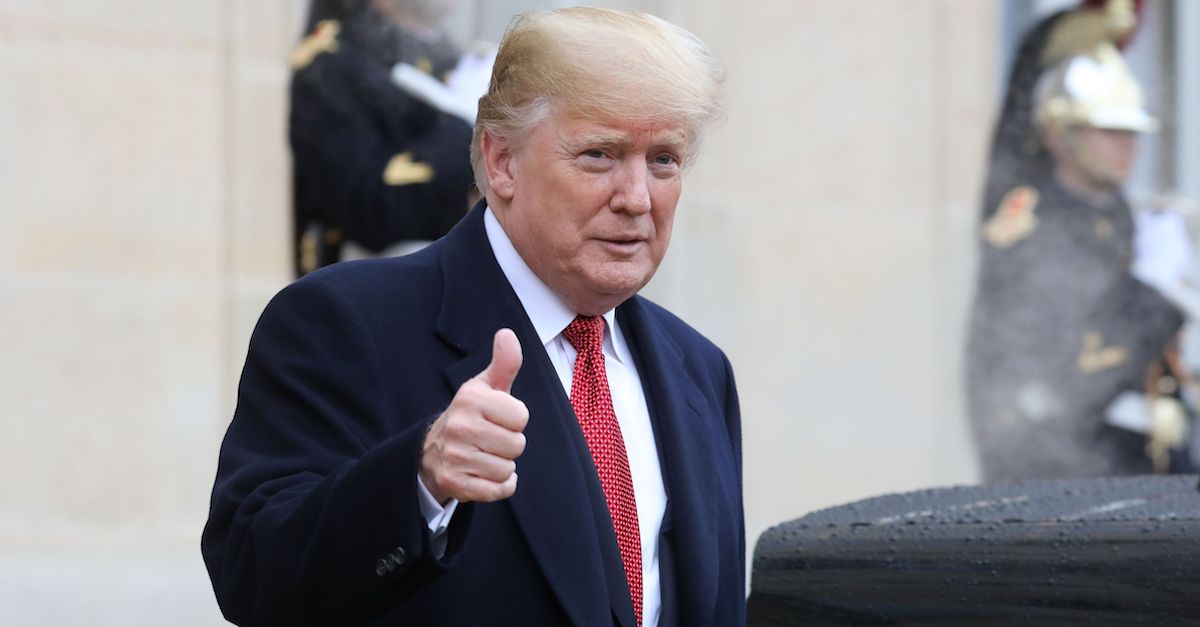 Michael Cohen is getting ready to testify before the House Oversight Committee to discuss his former client, President Donald Trump, with the apparent intention of incriminating and humiliating him. If Cohen's prepared statement, released late Tuesday night, is any indication however, he may be helping Trump more than hurting him.
Sure, there's plenty of bad stuff in there. Yes, Cohen calls Trump a "racist," a "conman," and a "cheat." Yes, he throws petty allegations like he made threats on Trump's behalf to keep his grades and SAT scores under wraps. Yes, he says that Trump lied about negotiations with Russia regarding a real estate deal. Yes, he even says Trump knew from Roger Stone that WikiLeaks was going to dump emails before it happened.
He also says something that undermines the heart of the theory that the Trump campaign actively colluded with Russia. In reference to the Moscow Project, which was a deal for a potential Trump Tower in Russia, Cohen says: "Mr. Trump knew of and directed the Trump Moscow negotiations throughout the campaign and lied about it. He lied about it because he never expected to win the election."
Later on in the prepared statement, Cohen says of Trump, "He never expected to win the primary. He never expected to win the general election. The campaign – for him – was always a marketing opportunity."
This, of course, raises the question: why would the Trump campaign actively work with Russia for an election that Trump wasn't planning on winning in the first place?
We can recall that according to an alleged conversation between Trump and then-FBI Director James Comey, when the FBI first opened its investigation they were not investigating Trump himself, just his campaign. So is it possible that Trump's campaign colluded with Russia without the participation of Trump himself? Well, Cohen can't confirm that either.
"Questions have been raised about whether I know of direct evidence that Mr. Trump or his campaign colluded with Russia. I do not," Cohen says.
He does go on to describe "suspicions" of collusion, but the basis appears to be a recollection of Donald Trump Jr. telling his father in June 2016, "The meeting is all set," with Trump Sr. responding, "Ok good … let me know." Cohen speculates that this was in reference to the Trump Tower meeting that took place around that same time, attended by Trump Jr., senior campaign members including Paul Manafort and Jared Kushner, and a Russian attorney who promised "dirt" on Hillary Clinton.
Cohen guesses that this means that Trump knew about this meeting in advance, and may have been involved in its planning. Of course, based on what's been reported on this, that meeting was fruitless for the Trump campaign and didn't result in—or stem from—any illegal activity.
Another campaign-related tidbit that Cohen threw in was that Trump allegedly knew that Roger Stone had been in contact with Julian Assange about WikiLeaks' dump of hacked emails before they were published. If true, this confirms speculation that Trump knew about the hacked emails before the public learned about them, but it does not confirm whether or not Trump directed Stone to do anything or if Trump or his campaign had anything to do with the actual hacking.
Even when it comes to a big topic of interest, Cohen's past lies to Congress about the Moscow Project, he refutes a recent BuzzFeed report that Cohen said Trump instructed him to lie. Yes, Cohen says that it was made clear that Trump expected this of him, but Cohen clearly states, "Mr. Trump did not directly tell me to lie to Congress."
Any implication of the president in criminal activity is a repetition of what was already known: that Trump allegedly directed Cohen to pay off Stormy Daniels, in violation of campaign finance law. That's pretty much it.
When you look at the timing of this payment (and the one Cohen arranged to be made to Karen McDougal), along with the statements in Cohen's prepared testimony, the big picture starts to become clearer, and it doesn't support a theory of a grand scheme with Russia. The payments to Daniels and McDougal were made soon before the 2016 election. The timing has been used to argue that the payments were clearly meant to help the campaign, but then why weren't they made sooner?
Because Trump didn't plan on winning the presidency until he realized at the very end that it could actually happen. That's why he didn't have Cohen arrange deals with Daniels and McDougal months earlier, and it's why it's hard to believe he was orchestrating anything with Russia beyond a real estate deal aimed at making him richer.
For all we know, Cohen's written statement may just be the beginning, depending on what members of the House Oversight Committee get out of him. If it's in line with the released statement, however, it won't be much. The insults and allegations of sleazy words and behavior may very well be true, and they may make Trump the person look worse than before. When it comes to various investigations, however, Cohen doesn't appear to do any further damage, and as far as Russia goes, it may actually help him.
Ronn Blitzer is the Senior Legal Editor of Law&Crime and a former New York City prosecutor. Follow him on Twitter @RonnBlitzer.
[Image via LUDOVIC MARIN/AFP/Getty Images]
This is an opinion piece. The views expressed in this article are those of just the author.