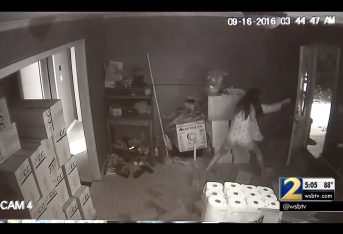 Dramatic video from an attempted home invasion robbery ended after a woman in the home opened fire, killing one of the three suspects. WSB-TV 2 in Atlanta reports police released the video and are now seeking the public's help to identify the two suspects who got away.
Police say the incident was captured by surveillance cameras located inside the home where the woman was living.  Three armed men are seen on the video entering the home after breaking through the front door.   As they make their way inside the home, a woman rushes out of her bedroom and opens fire with a semi-automatic pistol.
WATCH:
Clearly surprised to be met with almost sudden resistance, the three men run for the exit while exchanging gunfire with the woman.  The video shows one suspect escape by running through a glass door to get out of the home.
When police arrived on scene they found one suspect dead in the driveway.  The other two suspects managed to escape.
Gwinnett County Police Department Cpl. Deon Washington told a reporter the woman will not be charged in this incident.
"She exercised her right to defend her livelihood and property," Cpl. Washington said in an interview.
Cpl. Washington said investigators are now hoping the release of the video will lead to the arrest of the other suspects.
"They're not wearing anything on their faces so we're highly anticipating someone watching the evening newscast will recognize these people," Cpl. Washington said.
Have a tip we should know? [email protected]