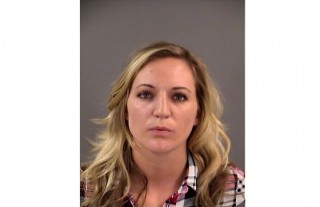 After a three-day trial, a jury found Kaylee Whitehall guilty of reckless homicide for the death of her boyfriend Kuston Johnson on Thursday. Whitehall stabbed Johnson during a dispute at their Kentucky home in September 2015.
During the trial, testimony revealed that the argument supposedly took place after Johnson learned that Whitehall planned on leaving. Eyewitnesses of the confrontation described Johnson putting Whitehall in a headlock and Whitehall throwing objects at Johnson in a fight that went all over their house.
The evidence that likely sealed the deal for the jury of six men and six women was testimony from Brittany Jones, who said that she tried to separate the two. Jones said that after she pushed Whitehall away from Johnson, Whitehall grabbed a knife and went back to the bedroom where he was located.
"If I'm in fear of my life, would I choose to run at a person I'm afraid of?" prosecutor Kim Geoghegan said in her closing argument, according to the Bowling Green Daily News.
Additionally, Whitehall had initially claimed that she stabbed Johnson in the kitchen while he was holding her. A detective who investigated the case said that the crime scene and autopsy didn't support this, and that he believed she stabbed him in the bedroom area of the house. While there were witnesses who saw the fight, none of them had seen the actual killing.
Warren Circuit Judge Steve Wilson is scheduled to announce Whitehall's sentence on November 7. The jury has recommended that she serve four years in prison.
Have a tip we should know? [email protected]