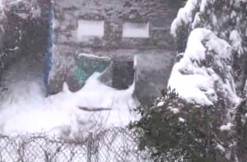 Animal cruelty is thing that happens every day, but the commonness doesn't make it easier to handle. And well, here you go: the NYPD handed a summons to a woman who just wouldn't keep her dogs inside during the Saturday blizzard.
Neighbors of a Brooklyn woman called cops on June Wiggins Saturday after they saw her dogs, blind(!) 14-year-old Prince and 15-year-old Egypt shivering in the middle of a blizzard.
Plus one of those neighbors, Evelyn Costa, took video of this, and posted it to Facebook, where it has over 300,000 views. A dog is head whimpering throughout the whole thing:
Yeesh. But even after a Saturday visit, and a Sunday follow up to give her a summons, Wiggins allegedly kicked the dogs out again. Again. Costa has alleged that the abuse has gone on for years: Wiggins wouldn't bring the dogs inside, no matter how bad the weather.
Police said Wiggins could face 15 days in jail if she had another infraction.
The ASPCA has promised to make sure the dogs are cared for, according to a source speaking to The New York Daily News. But there are no announced plans to give the dogs a new home. Wiggins did not return calls to The Daily News.
"She says they're there for protection," Costa said. "That's a joke."
[h/t New York Daily News, image via screengrab]
–
>> Follow Alberto Luperon on Twitter (@Alberto Luperon)
Have a tip we should know? [email protected]