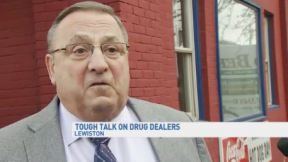 Shades of Nancy Reagan and her now infamous "Just Say No" anti-drug advertising campaign have shown up in Maine. Governor Paul LePage is making waves with his controversial remarks on drugs. "Everybody in Maine, we have Constitutional Carry. Load up and get rid of the drug dealers," the Republican politician encouraged. Vigilantes take note.
The businessman has made multiple tough on crime statements of late, recently advocating for the return of public executions and "guillotines." LePage later attempted to walk back his remarks saying "[I]t was a joke, yes."
The Governor also made headlines with racially motivated remarks about drug dealers in early January, "These are guys by the name D-Money, Smoothie, Shifty," LePage said. "Incidentally, half the time they impregnate a young, white girl before they leave. Which is the real sad thing, because then we have another issue that we have to deal with down the road."
Asked whether he would like to see the death penalty for drug dealers, the Pine Tree State's Governor told CBS 13 reporter Brad Rogers, "Yes, absolutely."
Maine abolished the death penalty in 1887. On reinstating the death penalty, the resolute Republican remarked, "If you don't try, you never get anywhere."
The tough-talking Governor has endorsed his mid-atlantic counterpart New Jersey Governor Chris Christie for President.
Check out the video below:

[h/t WGME 13]
[Screengrab via WGME 13]
Have a tip we should know? [email protected]