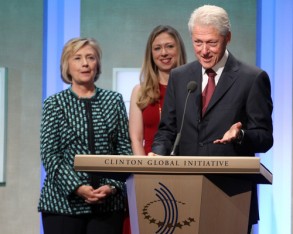 Top officials at the Department of Justice reportedly denied the FBI's request to conduct an investigation into potential public corruption at the Clinton Foundation earlier this year.
CNN Justice Correspondent Pamela Brown reported on Thursday that a bank notified the FBI with concerns about suspicious activity surrounding accounts associated with a foreign donor to the Clinton Foundation.
"So, what the FBI wanted to do, earlier this year, is open up a case and investigate whether there was a conflict of interest at the time that donor was making contributions to the Clinton Foundation, during [Hillary] Clinton's tenure at the State Department," Brown said.
WATCH:
The FBI, along with officials at three DOJ field offices, then met with top officials at the Justice Department and reportedly requested permission to launch a full public corruption investigation into the Clinton Foundation.
Brown says at the meeting there was disagreement between the DOJ field offices and the main Justice Department officials over whether an investigation should be opened.  The top DOJ officials argued against opening the investigation and ultimately squashed efforts to move forward with the proposed probe.
However, Brown's report also indicates that the DOJ investigation into Virginia Governor Terry McAuliffe was also discussed at this meeting.  Top DOJ officials reportedly gave permission for the case involving McAuliffe to go forward.
In May, news broke that the DOJ was conducting an investigation into potential illegal contributions to McAuliffe's gubernatorial campaign.  Reports also indicated federal investigators were probing McAuliffe's time on the board of the Clinton Global Initiative, which is part of the Clinton Foundation.  One major donor to the McAuliffe campaign also pledged $2 million to the Clinton Foundation.
When questioned by reporters back in May, McAuliffe said while he was unaware of the scope investigation, he was sure it had "nothing to do with the Clinton Foundation."
Have a tip we should know? [email protected]