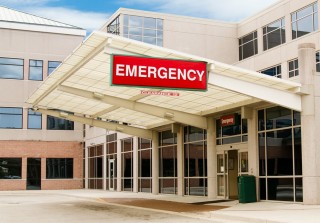 An Alabama woman won a $16 million verdict in her case against a hospital over an injury sustained during childbirth. Caroline Malatesta relayed her account to Cosmopolitan magazine in a report published on Wednesday. She discussed how a new hospital's ad campaign led her to try something different for the birth of her fourth child, but that when the big day came, what happened was anything but expected.
"This new hospital [Brookwood Medical Center] started advertising heavily, and natural birth was one of the central themes of their new campaign … It was all about comfort and choice. … That's what first drew me in and eventually convinced me to leave my longtime ob-gyn to birth at this hospital," Malatesta said.
Of course, comfort and choice weren't part of the equation when she was in labor.
When Malatesta arrived at the hospital, she said, a nurse took control of the situation, ignoring instructions from Malatesta's doctor, saying he wasn't on call at the time. "From that point on," she said, "it became a back-and-forth of, 'But my doctor said I could," and, 'But you don't get to.'"
She put on a gown when she had been told she could wear her own clothes, and she got on her back when she had been told she could be positioned in a different way. She told Cosmopolitan that the nurse wouldn't answer her questions. "They were not providing the services they advertised," she said.
Malatesta said that during a contraction, she got on her knees because being on her back was painful. When the baby started crowning, she said, the nurse flipped Malatesta onto her back, while another nurse held the baby's head, keeping him from being delivered, while Malatesta struggled. A doctor arrived six minutes later and delivered her son, Jack, quickly. Jack was born without suffering any complications, but Malatesta still feels the effects of the ordeal two years later.
She wrote that as a result of the baby being held in during childbirth, she has been dealing with extreme pain and an inability to have sex.  She claimed that when she tried to get answers from the hospital afterwards, no one would speak with her. So she went to court.
This week, Malatesta's court battle came to an end, and the hospital was held accountable for what happened. While it doesn't fix her physical condition, she hopes that it will prevent future patients from suffering similar fates. "This verdict is a wake-up call for hospitals that don't take women seriously. It's a wake-up call that they need to review the way they've been doing things and make changes."
[Image via Shutterstock}
Have a tip we should know? [email protected]