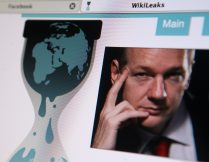 As LawNewz reported last week, Wikileaks founder Julian Assange agreed to be extradited to the U.S. if Chelsea Manning were to receive clemency.
If Obama grants Manning clemency Assange will agree to US extradition despite clear unconstitutionality of DoJ case https://t.co/MZU30SlfGK

— WikiLeaks (@wikileaks) January 12, 2017
Now the world is wondering if he will live up to his word.  On Tuesday, President Barack Obama commuted the 35-year sentence of Chelsea Manning.  The former Army intelligence analyst was convicted of espionage and other related offenses for leaking military information to WikiLeaks. Instead of having to wait until 2045 to be released, Manning's prison term will now end on May 17, 2017.
However, Barry Pollack, Assange's attorney claims that the commutation of Manning's sentence did not meet the conditions of his offer.  According to the Hill, Pollack stated that "Mr. Assange welcomes the announcement that Ms. Manning's sentence will be reduced and she will be released in May, but this is well short of what he sought … Mr. Assange had called for Chelsea Manning to receive clemency and be released immediately."
Have a tip we should know? [email protected]