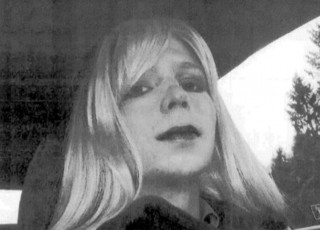 President Obama has commuted the sentence of former Army intelligence analyst Chelsea Manning. Manning was serving a 35-year prison term for leaking military information to WikiLeaks. Instead of having to wait until 2045 to be released, Manning will get out of prison on May 17, 2017. Manning is one of 209 individuals who received notices of commutations from the White House on Tuesday.
Manning, who was born Bradley Manning, came out as transgender the day after being sentenced. She is being held in a men's facility, where she has previously staged a hunger strike and twice attempted suicide. The ACLU had been pushing for Manning to get clemency, and WikiLeaks founder Julian Assange even said he would agree to be extradited to the U.S. if Manning was released. It remains to be seen whether Assange will hold up his end of that bargain.
Manning's case gained attention around the same time as Edward Snowden leaked information regarding the NSA's intelligence activities, prompting Snowden to flea to Russia. White House Press Secretary Josh Earnest made it clear that the two situations are very different. "Chelsea Manning is somebody who went through the military criminal justice process, was exposed to due process, was found guilty, was sentenced for her crimes, and she acknowledged wrongdoing," Earnest said, according to The New York Times. In contrast, he pointed out that "Mr. Snowden fled into the arms of an adversary."
This is a developing story and LawNewz.com will provide more information as it becomes available.
Have a tip we should know? [email protected]