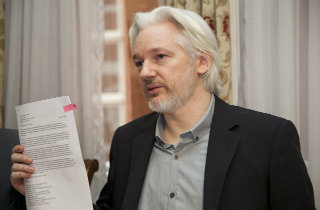 A report from earlier this week indicated that President Obama may be considering granting a commutation to Chelsea Manning, who is serving a 35-year sentence for turning over non-public information to Wikileaks. On Thursday, Wikileaks' founder, Julian Assange, basically said, "Take me, instead!"
A tweet from the Wikileaks account said that Assange will agree to be extradited to the U.S. if Manning gets clemency.
If Obama grants Manning clemency Assange will agree to US extradition despite clear unconstitutionality of DoJ case https://t.co/MZU30SlfGK

— WikiLeaks (@wikileaks) January 12, 2017
Assange has reportedly been holed up at the Ecuadorian embassy in London for years. He recently held an audio-only press conference that he said was held there. Assange is facing sexual assault charges in Sweden in addition to possible U.S. espionage charges in the United States. The Wikileaks tweet questions the viability of an U.S. case against Assange, and indeed, a Washington Post report from 2013 said that officials doubted whether the Justice Department would press charges against him.
Have a tip we should know? [email protected]