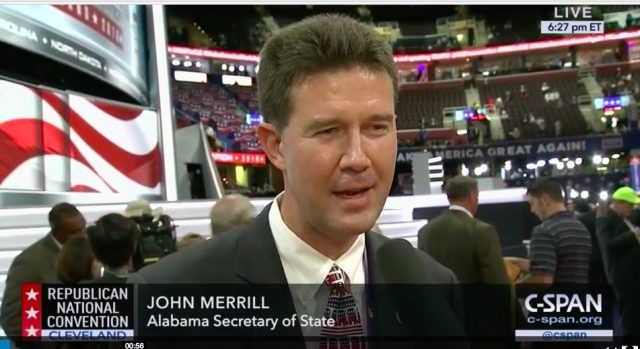 If you thought things may have gotten more normal now that Doug Jones defeated Roy Moore in the Senate race, don't get too comfy just yet. Right after the election results were tallied, Alabama Secretary of State John Merrill appeared on CNN and said that Roy Moore had the option to pay for a recount if he so chose, which is appears to be the opposite of true. Merrill was quick to explain that a recount would not be likely to change the outcome of the race, so there's at least that. But it would probably be good if the person in charge of elections actually read the election law.
 Roy Moore isn't the first sore loser in Alabama or anywhere else.   States have actual statutes for these things, and here's the one that would apply to the Moore v. Jones race:
"When, in a general election, the election returns for any public office, including a judicial office, reflect that a candidate is defeated or any ballot statewide measure is defeated by not more than one half of one percent of the votes cast for the office, or the ballot measure, as certified by the appropriate election officer, a recount shall be held unless the defeated candidate submits a written waiver for the recount as provided herein…"
Ok, so that means that if the vote is closer than .5% there's an automatic recount. Here's who pays for it:
 "The expenses of a recount conducted pursuant to subsection (a) shall be a state charge if the recount is held for an election for a federal, state, circuit, or district office, or the state Senate, state House of Representatives, or any other office that is not a county office. The expenses of a recount conducted pursuant to subsection (a) shall be a county charge if the recount is held for an election for county office."
If we're not within the .5% margin, then this statute applies, and "anyone with standing to contest the election under Sections 17-16-40 and 17-16-47" can ask for the recount at his or her own expense:
Any person with standing to contest the election under Sections 17-16-40 and 17-16-47 may petition the canvassing authority for a recount of any or all precinct returns…The petitioner must be prepared to pay the cost of the recount and shall give security to cover these costs…"
The problem is, though, that Roy Moore is not someone "with standing" under those statutes. The Alabama statutes only allow for an independently-triggered recount for elections for a non-federal position. The statutes list out those positions – a list on which "United States Senator" is conspicuously absent. Why's that? According to Rick Hasen, the leading legal expert on election law, it's because any recount for a Senate seat would presumably be conducted somewhere in Congress, and not within Alabama. As Professor Hasen explained:
"I think unless there's another provision I'm not seeing he cannot get a recount if it is outside the 0.5% margin.

He can ask for the U.S. Senate to conduct some kind of contest but good luck with that.

Happy to be corrected if I'm wrong."
Professor Hasen also tweeted about Secretary's Merrill's apparent error, calling for the Secretary to correct his public statements:
#ELB: Crazy in Alabama: Why Isn't Alabama Secretary of State John Merrill Correcting His Error About Recounts Made Last Night on CNN? https://t.co/hgqINntnnH

— Rick Hasen (@rickhasen) December 13, 2017
But Merrill responded with the baby of all gestures, and simply blocked Hasen on Twitter:
And rather than respond to me on the merits, the Alabama Secretary of State, its chief election officer, has blocked me on Twitter. Unreal. pic.twitter.com/a3Rzeo224O

— Rick Hasen (@rickhasen) December 13, 2017
So that's weird. Weirder still is Merrill's insistence that Alabama has never had a problem with fair elections.
Screenshot of this: pic.twitter.com/595AYYYz6u

— Rick Hasen (@rickhasen) December 13, 2017
Umm, what? Yeah, except for that whole black-voter-suppression thing. Alabama was literally at the heart of voter suppression, right from the start, as writer Ari Berman remarked on Twitter yesterday.
Alabama is birthplace of Voting Rights Act

This is how hard it was to vote in the state before 1965

We can't forget about this history

(p17 Give Us the Ballot) pic.twitter.com/iWWCuxLtUz

— Ari Berman (@AriBerman) December 12, 2017
And in recent years, Alabama has come under tough scrutiny for its strict voter id laws, which have been found to have a disproportionate impact on black voters. If that's not enough, the Alabama state senator behind the voter ID bill actually told the Huntsville Times that the law would undermine Alabama's "black power structure." There's more too. In 2010, the bill's sponsors were actually caught on tape  planning a strategy to depress the turnout of black voters — whom they called "aborigines" and "illiterates." All I'm saying is that if I were the Secretary of State in Alabama, I'd tread pretty damn lightly on this whole damn topic.
Instead, what Merrell did do is respond to questions about the questions Professor Hasen and others raised by deflecting:
Absolutely! I have no doubt that he is well respected in his circles. However, if he was truly a professional who was interested in what was right & best in this election instead of taking to Twitter or social media he would've called me directly & we would've had a conversation.

— John Merrill (@JohnHMerrill) December 14, 2017
So while many of us are deeply gratified with Doug Jones' victory, much of Alabama is still operating in as misguided a way as ever. Sigh. Well, at least it all makes for an interesting Twitter feed.
J.K. Rowling for the win:
Narrator's voice: Roy was right. God was in control. What he didn't realise was, She's black. https://t.co/pCpVifXgbq

— J.K. Rowling (@jk_rowling) December 13, 2017
[image via screengrab]
Editor's Note: this piece has been updated from an earlier version, which incorrectly stated that Secretary Merrill stated that a recount would change the outcome of the election.
This is an opinion piece. The views expressed in this article are those of just the author.
Elura Nanos - Columnist & Trial Analyst, Law & Crime; CEO Lawyer Up