Two friends from North Carolina — one of whom wore a backpack embroidered with his last name on it to the Senate floor on Jan. 6 — have been charged with breaching the U.S. Capitol building.
Christopher Carnell, 20, of Cary, North Carolina, and David Worth Bowman, 21, of Raleigh, North Carolina, allegedly broke into the Capitol building along with scores of Donald Trump supporters angry over Joe Biden's win in the 2020 presidential election. At around 2:49 p.m., according to prosecutors, Carnell and Bowman made their way to the Senate floor.
Prosecutors relied on video from the New Yorker that showed Carnell huddled with others around a desk and rifling through papers apparently linked to Texas Republican Sen. Ted Cruz.
"He was gonna sell us out all along — look!" an unidentified rioter is heard saying. "'Objection to counting the electoral votes of the state of Arizona.'"
"Wait, no," Carnell replied, according to prosecutors. "That's a good thing. He's on our side. He's with us. He's with us."
Carnell apparently wore a backpack with his last name stitched in white letters.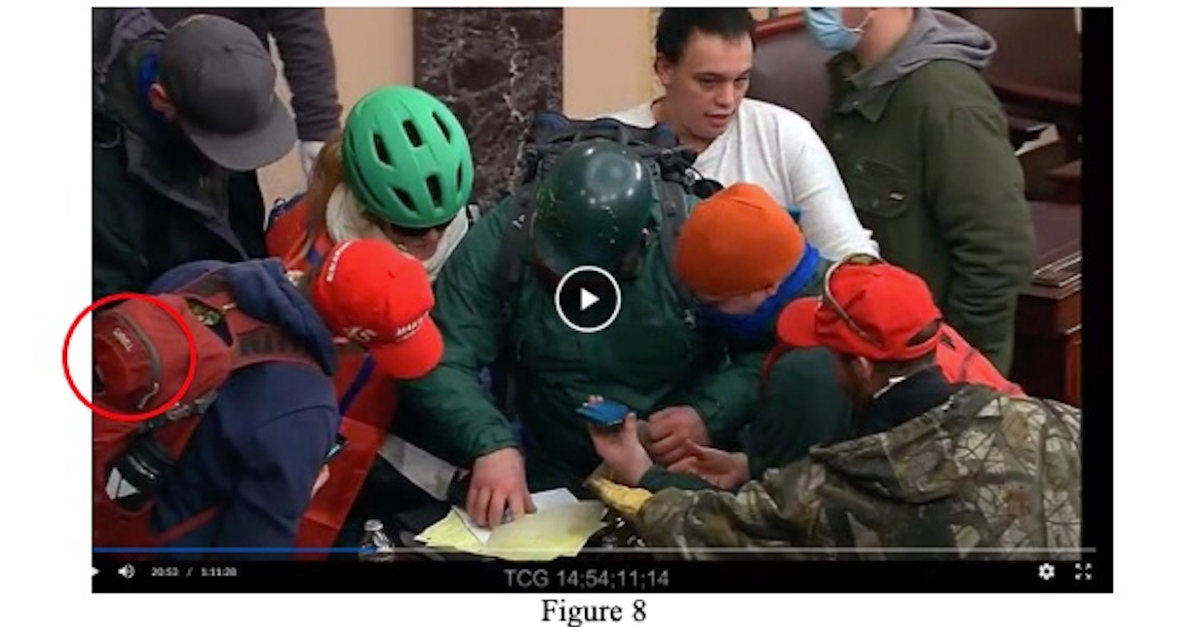 Bowman was also recorded sitting at a senator's desk, according to prosecutors.
Carnell, who was 18 at the time of the riot, and Bowman, who was 19, are charged with obstructing an official proceeding of Congress, a felony that carries a potential 20-year prison sentence. They are also charged with a handful of trespassing and disorderly conduct misdemeanors that carry a combined statutory maximum of three years behind bars.
Federal prosecutors were tipped off to Carnell and Bowman's alleged participation in the Jan. 6 riot during the course of their investigation into Aiden Bilyard, a North Carolina then-teen who was accused of unloading a can of bear spray on police officers during the melee.
According to the charging documents, Bilyard was part of a text message conversation with Carnell, Bowman, and someone identified only as "Ethan." They talked about going to the Nov. 14, 2020, "Million MAGA March" rally in Washington, and according to prosecutors, shared pictures from that rally of white supremacist Nick Fuentes as well as Anthime Gionet, the pro-Nazi far-right online personality known as "Baked Alaska" who was sentenced in January to two months in jail.
Bilyard, who was 19 at the time of his arrest, pleaded guilty in October to assaulting officers using a dangerous weapon and is awaiting sentencing.
On Jan. 6, Bowman texted the group a selfie-style picture of himself and Gionet.
"I gave baked alaska [sic] my pit vipers," Bowman wrote, according to the probable cause affidavit, referring to the memorable eyewear Gionet was seen wearing that day as he streamed his breach of the Capitol to thousands of viewers.
Bowman also allegedly texted the group a picture of what investigators describe as a "signed letter from Senator Mitt Romney to then-Vice President Pence" that "appears to be a copy of Senator Romney's speech from February 2020, when he voted to impeach then-President Trump."
The picture appears to have been taken from the Senate floor, the probable cause affidavit says.
After Jan. 6, the text conversation apparently contemplated that there might be consequences for breaching the building that day.
"[P]lease delete this group text," Bowman allegedly wrote to the group on Jan. 8 after sending the group a link to a news story including an image taken from the Senate floor. "It would be so funny if you all deleted this as a funny ironic joke."
"[D]id you get inside? Hypothetically speaking," Bilyard responded.
"[D]id you get inside this cool Minecraft Building?" the person identified as "Ethan" wrote, attaching an image of the Capitol building.
"[I]f I was buying textbooks for next semester, I would have hypothetically gotten into the book store and even walk[ed] the checkout floor where all the professors usually buy books and sometimes choose what books their students would read," Bowman reportedly wrote. "But no that was just a joke delete the chat because it's funny."
"[S]o what you're saying is that you got into a private library of sorts," Bilyard then wrote, to which Bowman replied: "In Minecraft school yes[.] But no[.] Delete all of this for fun."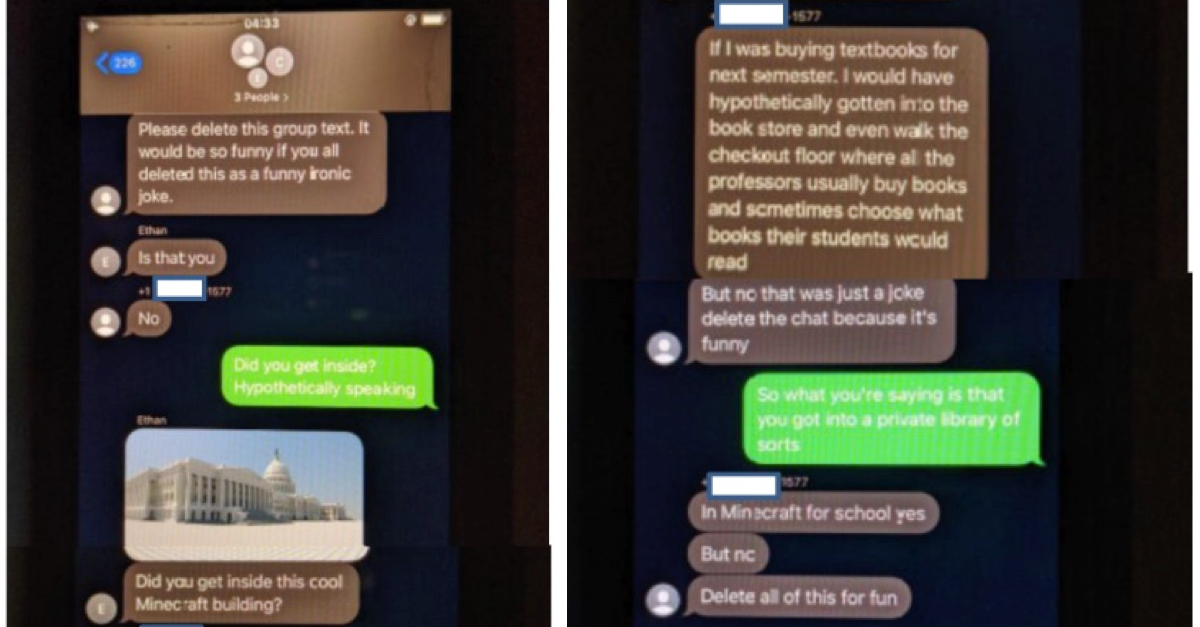 Minecraft is a world-building video game in which players can interact with each other and mine in-game resources for a variety of purposes, ranging from creating cities to surviving attacks.
According to a Justice Department press release, Carnell was arrested Thursday and Bowman was arrested Monday.
Have a tip we should know? [email protected]