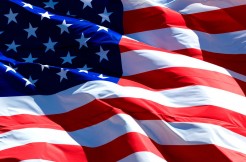 Can you respect the national anthem by stopping athletes from hearing it? On Wednesday, a Major League Soccer owner kept both teams in their locker rooms while "The Star-Bangled Banner" played. Why? He wanted to stop a protest.
Here's the situation. Seattle Reign midfielder Megan Rapinoe recently picked up NFL quarterback Colin Kaepernick's protest. Kaepernick, who is black, has refused to stand during the national anthem in objection to police brutality against people of color. He got publicly criticized for being anti-military—the anthem has a strong link to the U.S. armed forces—and to show he wasn't, started taking the knee during the song. Rapinoe, who is a lesbian, started kneeling too in solidarity and because of similarities to how the LGBT community and people of color have been treated in America.
Megan Rapinoe vows to keep the conversation going by kneeling for the national anthem as a nod to Colin Kaepernick. pic.twitter.com/DcqkVS5d4V

— ESPN (@espn) September 5, 2016
Despite the intent, though, Washington Spirit Owner Bill Lynch believed she was disrespecting veterans.
"To willingly allow anyone to hijack this tradition that means so much to millions of Americans and so many of our own fans for any cause would effectively be just as disrespectful as doing it ourselves," they said in a statement. It said Lynch lost friends in wars, and that "We strongly feel that there are better ways to begin a conversation about a cause than tarnishing a tradition that is so important to so many."
Statement from Washington Spirit owner Bill Lynch on decision to play national anthem with teams not on field. #NWSL pic.twitter.com/RKgkIyvHUb

— Jeff Kassouf (@JeffKassouf) September 7, 2016
Reportedly, everyone else was blindsided. For example, Reign coach Laura Harvey told Think Progress she only found out the anthem had already played right before she stepped onto the field.
"It's f—king unbelievable," Rapinoe said after the game. "I am saddened by it." National Women's Soccer League commissioner Jeff Plush also said, "No, I don't support it [keeping the teams in the locker rooms]. I am disappointed by it. I didn't know about it. It's an emotional topic, and I'm trying to be open-minded. It's all very fresh."
[image via AXL and Shutterstock]
–
Follow Alberto Luperon on Twitter (@Alberto Luperon)
Have a tip we should know? [email protected]