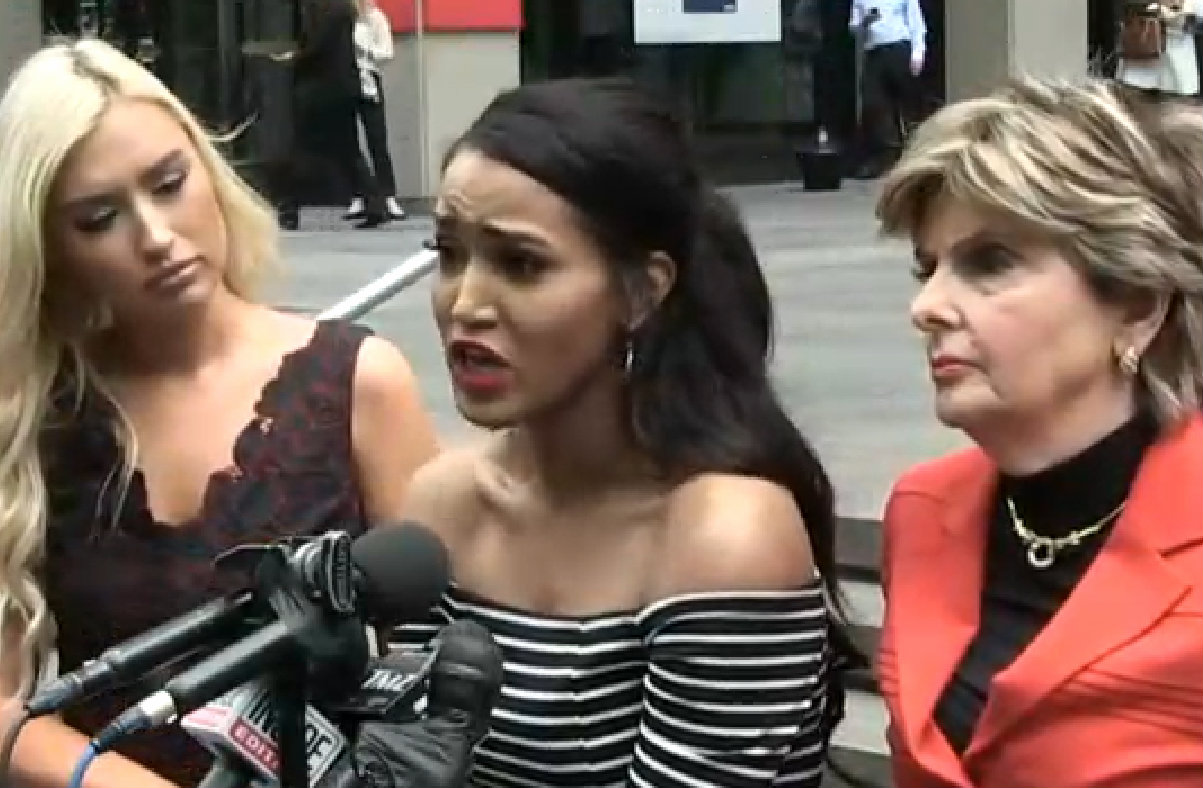 On Friday, attorney Gloria Allred  announced that she is adding a new plaintiff to an ongoing lawsuit brought by former Houston Texans cheerleaders. This new client Angelina Rosa says her body was duct taped without her permission because she was considered "skinny fat."
Rosa and Allred spoke at a press conference in front of the National Football League office in Manhattan. She said being duct taped was a condition to keep her job, and that dancing while taped was painful. It tore off some of her skin, and was difficult to remove when she returned home that night. The taping was done without her constent, she said. Allred called it an assault.
She and other dancers were held to unrealistic appearence standards to the point that she reduced her diet to an unhealthy degree. At one point, she only ate porncorn and water to get her weight down, she said. Rosa described "skinny fat" as the term management used to describe dancers who were skinny but not "toned." She called this "insane,' because the cheerleaders were beautiful and consistent with their weight. Rosa said she stayed at consistent 125 lbs, and was about 5'4" tall.
Allred showed reporters a picture of this new client in a bikini.
"It's ridiculous to call a person who looks like this 'skinny fat'," she said.
Rosa cited that cheerleaders often treated badly. They were often told about and shown video tapes of mistakes by dancers in previous years. A Hispanic colleague was told she would be replaced by another Latina, Rosa said.
Like the other plaintiffs, she said they were paid cheap: $7.25 an hour (the Texas minimum wage). After two years on the team, Rosa is done with cheerleading, and choose not to tryout again.
"I don't deserve that treatment, and I'm ready to move on with my life," she said.
Co-plaintiff Hannah Turnbow joined Rosa for the press conference. She is one of four other cheerleaders who announced the complaint on June 1. Turnbown claimed she was attacked by a fan at an event, and the team did nothing. Instead, she was told to "suck it." Allred said there were photos of the injury.
Plaintiffs said they were unpaid $7.25 an hour even though the dancers played an important role in the Texans' revenue. The former cheerleaders said the team tried to dictate their behavior outside of work, and also harassed them.
The woman are represented by Allred, and Houston-based lawyers Kimberley Spurlock and Misty Cone. The Houston Texans issued this statement on June 1.
"We are proud of the cheerleader program and have had hundreds of women participate and enjoy their experience while making a positive impact in the local community," Amy Palcic, Vice President of Communications for the Texans, wrote in an email to Law&Crime. "We are constantly evaluating our procedures and will continue to make adjustments as needed to make the program enjoyable for everyone."
Note: Rewritten to include details from the press conference.
[Screengrab via TMZ; from left to right: Turnbow, Rosa, and Allred]
Have a tip we should know? [email protected]