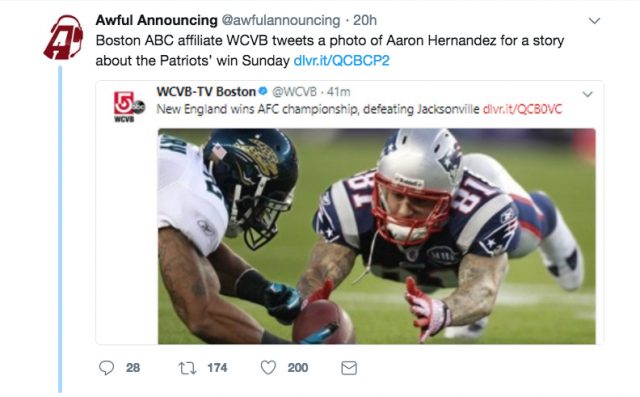 An ABC TV station in Boston used an image of a dead and former Patriots player in a story announcing New England's 24-20 win over the Jacksonville Jaguars on Sunday.
In a tweet announcing that story, WCVB-TV 5 in Boston wrote, "New England wins AFC championship, defeating Jacksonville."
Accompanying their tweet was an image of former Patriots tight-end Aaron Hernandez diving to catch a football thrown perilously close to the hands of a Jaguars defender during a preseason game in 2011.
The image is striking for at least a couple of reasons. Chief among them: Hernandez died on April 19, 2017.
In fact, Hernandez hasn't played in an NFL game since January 2013. Five months later he was arrested for the murder of Odin Lloyd. Hernandez was eventually convicted of that murder–in the first degree–in 2015 before having his sentence vacated as a result of his 2017 suicide while incarcerated at the Souza Baranowski Correctional Center in Shirley, Massachusetts.
Under longstanding Massachusetts commonwealth law, if a criminal defendant dies while their conviction is being appealed, the court is advised to render said sentence and conviction vacated. Therefore, while initially convicted of Lloyd's murder, that conviction was ultimately stricken from Hernandez's record.
The magistrate overseeing the case, Bristol County Superior Court Judge Susan Garsh, said, at the time, "There being no reason to recognize any exception in this case, in the interest of justice, the court has no choice but to abate the proceeding by vacating Aaron Hernandez's convictions and dismissing the charges against him and his appeal."
In response to the photographic mishap, WCVB-TV 5 deleted the offending tweet before tweeting out the following apology:
A news service that provides WCVB some digital content accidentally posted a pic of Aaron Hernandez in connection w/Pats AFC champ win on our social media. It's embarrassing & unacceptable. We apologize & are working w/team to correct so something like this never happens again.
Before social media personnel were reproved, however, Awful Announcing had some fun at the station's expense–posting a few choice responses to the ill-fated image flub. One commenter joked, "Sounds like they killed 'em." Another pondered, "how the heck are the Jags supposed to win if the Pats are playing zombies."
[image via screengrab/Twitter/Awful Announcing/WCBV-TV 5]
Follow Colin Kalmbacher on Twitter: @colinkalmbacher
Have a tip we should know? [email protected]